Guest post by Peter Horton, blogger at One World Plate
It's hard sometimes, feeding kids real food that's actually good for them, that they actually want to eat.  Being a dad food blogger, I've come up with a few solutions.
Today I'm going to show you a recipe for Vietnamese pho (that's pronounced like 'fuh' not 'foe') that you can add to your culinary toolkit.  My kids adore it, even though it's good for them and incredibly tasty.  My kids even beg me to make pho sometimes. 
Basically, pho is a soup, a salad and a noodle dish (what kid doesn't like noodles, right?) all wrapped up in one.  The appeal for kids is huge, because they get to customize the flavors and textures in any way they want.  When they feel in control of their own food, and get to participate in their own eating process, they're much more engaged and generally eat better.
There's really no right or wrong way to go about doing this, ultimately.There are some semi exotic spices used in the broth, but if you don't have them, that's ok, just use something else to flavor the broth (at some Asian groceries they actually sell pho broth kits).  The real key is to have a flavorful broth, noodles, and a wide variety of veggies/herbs and/or meat to add to your soup.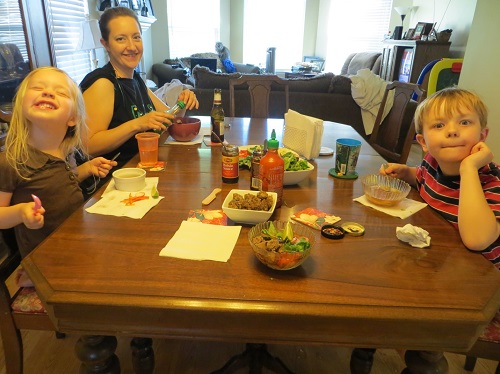 The technique:
The foundation of any good pho soup is a flavorful broth.To make this, I always start with a large knob of fresh ginger and half an onion, which I toast up in my toaster oven.I add several cloves of garlic at this point.
Next, gather whatever spices you're using.  Typically I use a cinnamon stick, some black cardamom (this is kind of hard to find; substitute regular cardamom if you can't find it), cloves, nutmeg, allspice, black pepper and star anise.
The smaller spices I put in a spice pouch I make out of a coffee filter and a few staples.
The larger spices (the star anise, cinnamon stick and black cardamom) can go directly in the stock pot at this point, and begin frying in a little oil on a medium high heat.  I usually add soup bones and mushrooms at this point (although you can omit this step if needed, but it does give a richer flavor to the broth) and begin to brown them, along with the garlic, onion and ginger.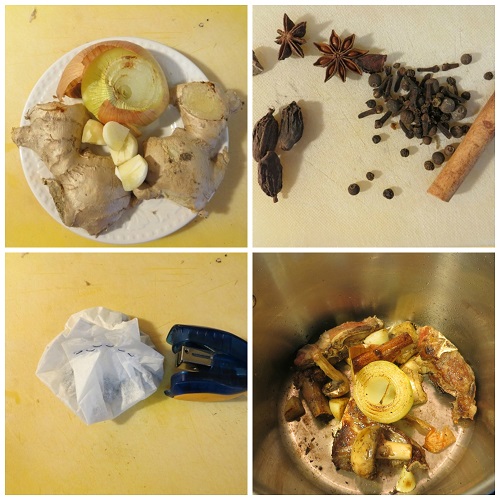 After everything is aromatic and browned, I add my beef broth, fish sauce mixture and spice pouch.
Simmer it for 20 minutes to an hour, until it's quite hot.
My daughter loves these little meatballs I make for the pho.  I use normal breakfast sausage and add lemongrass, ground coriander, garlic powder and mustard powder.
Roll them into balls and then parboil them in a separate smaller pot (this makes them much less greasy than they would be otherwise).
Set them aside and then toast them in a toaster oven or bake them in the oven for 10 minutes at 350 degrees.  They'll end up looking something like this: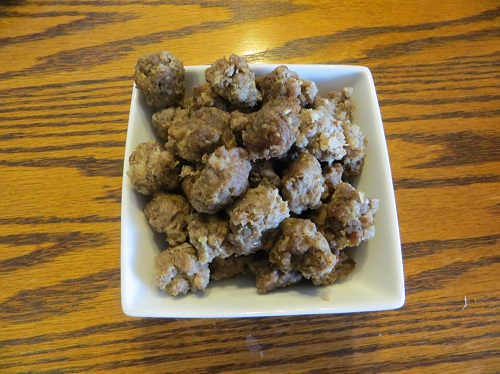 Next I prepare a garnish plate with all the veg and herbs (radish slices, cabbage, carrots, lime wedges, cilantro, basil, sliced sugar snap peas, red bell peppers).  Pretty much anything will work.  The trick is to have enough variety that your kids will have a lot to choose from.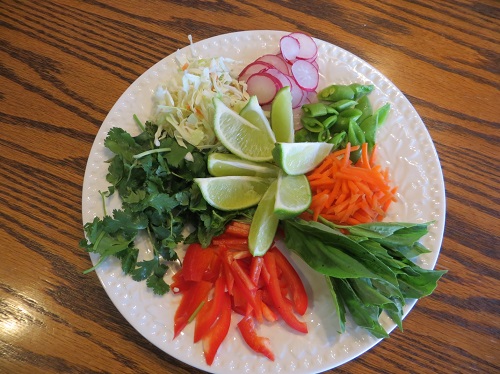 Finally, I cook pho noodles (I usually get these at an Asian grocery) in a large pot of water.  Really, you could use any kind of noodle your kids will eat.  We've used various types of ramen noodles before, too. 
The final step is optional.  I usually buy a small steak and freeze it for about 30 minutes, then slice it super thin, and boil the slices until they're just done. 
Then assemble the noodles into a bowl, add your hot broth and whatever meat you want to add, and serve it to your kids (or yourself).
You might have to throw in an ice cube or two to get the broth down to a safe temperature for your kids.In addition to the veg garnishes I usually add a small bowl of crushed peanuts, some sriracha (this is what makes it kid friendly; the hot sauce is optional), some hoisin sauce (a kind of Chinese soy based bbq sauce) and soy sauce.
When the kids add a little bit of this, a little bit of that and take a bite, you get satisfied kids like this: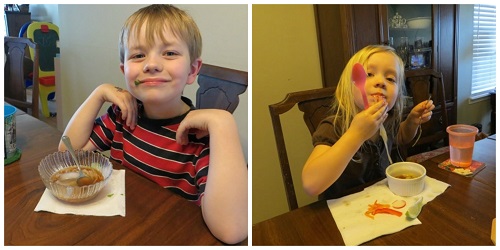 And that's really it.  Here's what a bowl of pho fully loaded for a grownup looks like: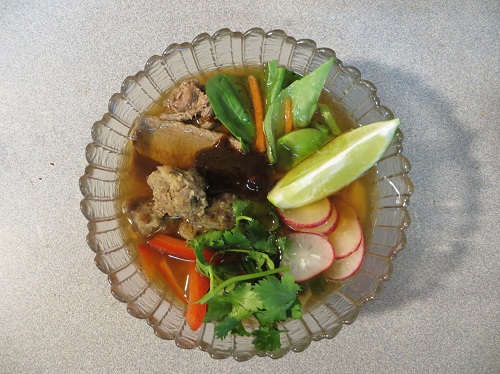 The ingredients:
One knob of ginger, split and toasted
One half onion, toasted
4 cloves garlic
1 tablespoon vegetable oil
A few soup bones
2 or 3 mushrooms sliced
3 32 ounce boxes of beef broth
¼ cup fish sauce
2 tsp honey (for the fish sauce mixture)
1 tablespoon rice vinegar (for the fish sauce mixture)
Juice of one lime (fish sauce mixture)
Spice pouch (1 tsp each of pepper, allspice, cloves and a quarter of a nutmeg nut, and 1 tsp each of ground cardamom and fennel)
A few star anise
One cinnamon stick
3 or 4 black cardamom pods (it's not quite the same but you could use regular cardamom; black cardamom has a smokier flavor that's quite unique and slightly different from regular cardamom)
One large package of pho noodles, or several packets of ramen noodles
For the meatballs: One package of breakfast sausage, 1 tablespoon lemongrass paste, 1 tsp garlic powder, 1 tsp ground coriander, 1 tsp of mustard powder
Thinly sliced steak, boiled (optional)
Veg garnish plate:  basil, cilantro, red bell peppers, cabbage, lime wedges, radish slices, carrots, sliced sugar snap peas, and sliced jalapeno (very optional, I omitted it last time)
Hoisin sauce, sriracha (or sambal oelek hot pepper paste if you're really brave), soy sauce and more fish sauce for condiments
I hope you like this.  I know it sounds a little complicated and maybe even daunting, but once you get the hang of it it's actually pretty easy.  If you end up making this for your kids (and yourself) let me know how it works out for you.  I'd love to hear from you.
Finally, I want to thank nwamotherlode for giving me the chance to share this with you. (Note from the mamas: You're welcome, Peter! Thank YOU for the guest post!)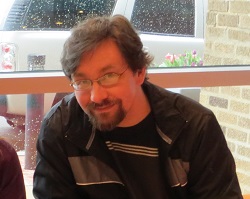 MORE ABOUT PETER: In my other life I'm a bookseller. I'm also a husband, a dad, a writer, a musician and a moderately proficient mostly self-taught home cook. There is nothing quite like discovering that you can cook an amazing meal for yourself or for someone you love. It's magic made real, in a way. One of the reasons I fell in love with my wife is that we're both very adventurous eaters, very willing to try foods from anywhere and everywhere. So we're always cooking or trying to figure out how to cook foods from all over the world. A few months ago I realized "I'm always cooking this cool stuff, why aren't I taking pictures of it and writing about it?" So that's what I'm doing over at oneworldplate.com, trying to share what I've learned or taught myself through trial and error. Every culture in the world has a unique cuisine.  I believe that if you want to understand someone from somewhere else, a good place to start is to try some of their food.