Small Great Things, by Jodi Picoult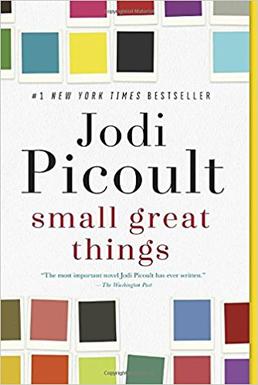 Okay, I know I'm late to the party. I can't believe this was my first Jodi Picoult novel, but now I'm hooked! I loved, loved, loved Picoult's 2016 novel Small Great Things, which will soon be a movie starring Viola Davis and Julia Roberts.
This novel covers some incredibly complex, tough material — racism, privilege, medical oversights, hate, friendship, motherhood, loss and love. The story is about a black labor and delivery nurse named Ruth, who is reassigned by her boss because her white supremacist patients don't want her touching their newborn.
When the newborn dies after a routine circumcision, Ruth is accused of murder.
The story is told in first-person by not only Ruth but also by the white supremacist father named Turk, and Ruth's white lawyer, Kennedy. I was completely taken in by this story and found myself looking for spare minutes during the day so I could get back to the book.
The writing is superb — tight, clean and powerful. I couldn't find a single sentence that didn't feel like it was written with great care and attention to detail.
The plot also has several surprises so big that I actually said the words "NO WAY" while parked in the school pick-up line and reading on my phone. This novel has more than 19,000 reviews and a four-and-a-half star rating on Amazon. 
I've already downloaded another novel by Picoult and am looking forward to having tons more of her work to read, since she has published more than 20 novels.
Hope you are gripped by this one as much as I was. Happy reading!