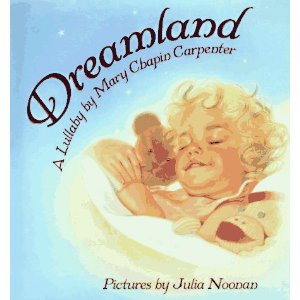 By Shannon Magsam
I'm stopping by Music Mama Jackie's place to share a playlist for babies. I was cleaning out my home office recently and found a CD that was a gift from friends Kyle and Laura Kellams (Kyle has access to some awesome music as news director at KUAF). The homemade cover says "Lullabies & Sleepy Songs" and the date, Dec. 9, 2001. Wow, did that CD take me back to Ladybug's babyhood. I remember worrying that I would wear it out I played it so often when she was an infant.
I thought I'd share the list. Download the songs for your baby or take the Kellams' good idea and give it to an expectant mom. I thought it was the best gift my baby girl received when she was born. The song "Dreamland" in particular pulls at my heart strings. I still sing that one to my daughter after all these years.
The songs:
Somewhere Over the Rainbow, Israel Kamakawiwoole
Moonlight Serenade, Glenn Miller
Mister Sandman, The Chordettes
Sail Away, Enya
Pink Moon, Nick Drake

S

tand By Me

, Ben E. King
Kind of Blue, Miles Davis
Somewhere Out There, Linda Ronstadt/James Ingram
Hobo's Lullaby, Emmy lou Harris
The Postman's Lullaby, from "Il Postino"
Dreamland, Mary Chapin Carpenter
Beethoven's Moonlight Sonata
Goodnight Sweetheart, The Platters
Hawaiian Lullaby, Kealii Reichel
Sleepytime Down South, Al Hirt
Silo Lullaby, Toad the wet sprocket
Brahms' Lullaby, New York Philharmonic
Lambs & Doves, Phish
Novio, Moby
Paper Moon, Nat King Cole
Bonus track (pick a little "surprise" song for the parents)
The Music Mama is back during the first week of each month with a new list of songs. To create this playlist on your iPod or MP3 player, just print the list and use it to download your favorites from an online music store like iTunes. Happy listening!