By Jackie Helton, the Music Mama
The most lovey-dovey day of the year is fast approaching, so I thought I'd compile a new list of love songs to get us ready. Go to your favorite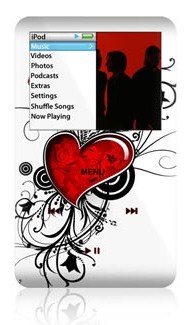 online music store to download some of the suggestions below to make yourself a "Love Songs Playlist" for February.  Also, if you love finding out about new little tricks on your iPod, here's one for you.
How to see full-color album art on your iPod:
The album art downloads from i-Tunes automatically when you purchase a song, but if you burn a song from your  CD collection, the artwork won't be there. After connecting your iPod to your computer, under the "Advanced" tab, you'll see "Get Album Artwork".  Click that, and the album artwork for your CD will show up as a small thumbnail version to the left of the song title. To see a full screen, double click the center "Select" button on your iPod, and the screen shows the album art for the song playing.
Enjoy this month's recommendations for "Great Love Songs" which stand the test of time.
Because You Loved Me, by Celine Dion

Let's Get It On, by Marvin Gaye
The Rose, by Bette Midler
Love Me Tender, by Elvis Presley
You're the First, the Last, My Everything, by Barry White
I'll Be There, by Jackson 5
Nothing Compares 2 U, by Sinead O'Connor
Wicked Game, by Chris Isaak

Faithfully, by Journey
If Tomorrow Never Comes, by Garth Brooks
Endless Love, by Lionel Richie and Diana Ross
I Will Always Love You, by Whitney Houston
Let's Stay Together, by Al Green
Wonderful Tonight, by Eric Clapton

My Valentine, by Martina McBride
Fallin', by Alicia Keys
It Must Have Been Love, by Roxette
First Time Ever I Saw Your Face, by Roberta Flack
Unchained Melody, by The Righteous Brothers
My Heart Will Go On, by Celine Dion
How Do I Live, by LeAnn Rimes

I Don't Want To Miss A Thing, by Aerosmith
Breathe, by Faith Hill
We Belong, by Pat Benatar
This I Promise You, by NSYNC
I'll Be There For You, by Bon Jovi
Cowboy Take Me Away, by Dixie Chicks
I'll Never Love This Way Again, by Dionne Warwick
Total Eclipse of the Heart, by Bonnie Tyler
Do you and your Valentine have a special song? If so, click the orange comment button below and add it to the list!