Radio hosts hear a LOT of music from day to day. So it made us wonder… if you've heard just about every song imaginable, which of those songs are the ones you choose to listen to most often? We asked that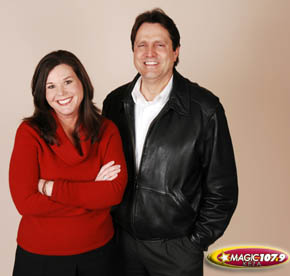 question of our friends Jennifer Irwin and Guy Westmoland, hosts of "Magic in the Morning" on KEZA Magic 107.9. They were kind enough to give us a list of what's playing on their iPods right now or blasting in the car's CD player.
If you're looking for a few good music recommendations from the pros, you can't go wrong with these lists, which contain some true classics as well as a few contemporary tunes. Enjoy!
Here's what Guy Westmoland is listening to in the car:
Elton John
Funeral for a Friend
Don't Let the Sun Go Down on Me
Rocket Man
Saturday Night's All Right for Fighting
The Eagles
The Beatles
Let It Be
Hard Day's Night
Day Tripper
Billy Joel
My Life
All About Soul
Big Man on Mulberry Street
The Who
Who Are You?
Won't Get Fooled Again
Don Henley
Dirty Laundry
The Boys of Summer
The Heart of the Matter
The Brian Setzer Orchestra
Jump, Jive and Wail
Rock This Town
Gino Vanelli
Brother to Brother
I Just Wanna Stop
Living Inside Myself
Here's what's playing on Jennifer Irwin's iPod:
Boys of Fall (Arkansas Razorback version), by Kenny Chesney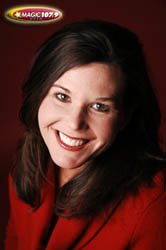 Telephone, by Lady Gaga and Beyonce
Love the Way You Lie, by Rihanna and Eminem
Teenage Dream, by Katy Perry
Suddenly I See, by KT Tunstall
Smile, by Uncle Kracker
The Breath You Take, by George Straight
American Saturday Night, by Brad Paisley
Pride (In the Name of Love), by U2
ANYTHING by Michael Buble or Maroon 5!
The Music Mama is back during the first week of each month with a new playlist of music. Just print the list and use it to shop for your favorite songs on any online music store like iTunes. Happy listening!