By Jade Stone, NWA wife and mom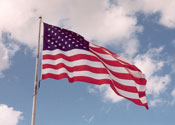 As we approach yet another holiday season, I find myself preparing for the arrival of the orders for my husband's second deployment with the National Guard.
Jay is away now for training which will most certainly lead to yet another deployment next year. Though I sit and miss him dearly, I know he is safe and warm, stateside. I feel blessed that he got to come home for a few days for Thanksgiving before having to return to finish the training.
I'm reminded of troops who are not so fortunate and how hard this is on their families. I personally know first hand the effects deployment can have on an entire family, be it a mom or dad, brother, sister, spouse, son, daughter, or friend. We are all deeply touched by this act of self sacrifice in ways that so many in the "civilian world" may never truly understand. 
My husband, Jay, was deployed to Iraq in 2006 for 18 months.  Our son, Jess, was 6 months old at the time. We knew then, that he would be gone for the majority of our son's life at that point and would miss out on so many firsts, for example, that first step, or first real word, even the first and possibly second birthday as well.
Our biggest concern then however, was if our son would know who daddy actually was when my husband returned. As difficult as it was for Jay to leave us behind to fight a virtually invisible enemy, it was even more heart wrenching to imagine a reunion after almost 2 years in which our son didn't recognize his own father. We did everything we could to keep Jay a presence in our home like creating a scrapbook of all of us together, talking about daddy everyday and night, and when time and schedule would allow, keeping in touch with web cams. Thank God for the Internet! 
Unfortunately it didn't take Jess long before he started to call the computer "daddy".  The first time it happened, my heart broke in two, to think he didn't even realize who this person was.  Shortly after that, I heard through an FRG (family readiness group) email about a company called Flat Daddies that created life size posters of the deployed parent for their children.
I jumped at the chance to bring Jay to life, with the hopes of teaching our little one that daddy was more than a "show" on a computer screen, but rather a life size person in his life who loved him dearly. I went to their website, uploaded the best photo I could find of Jay in his ACU's (uniform) and within 10 days, we had a life size picture of daddy that we could talk to, pray with and even exchange "sugars" with every night before bed.  I hung it over his crib so that to Jess, it appeared that daddy was looking over him always as he slept. It helped tremendously!
It's hard to tell what a 9-month-old or even 12-month-old child really understands or knows but one thing was certain, when Jay arrived home on R&R, Jess was so excited to see that happy face on the wall emerge from a crowd of soldiers full of life and laughter!  Certainly, R&R meant only 2 weeks at home and then back to Iraq, however, he returned in one piece (mostly, but that's another article altogether!) just in time for Jess' second birthday.  We were very fortunate that time that "alls well that ends well" and while it did take some warming up, the two were thick as thieves in no time at all!
While we don't know exactly where or when, this next deployment will take place, we don't know its coming. Our son is now 4, and time will not pass so easily for this upcoming deployment. In the meantime, we have truly learned that family time together is invaluable and that we must treat each moment together as a gift because there are no guarantees in life. This year, I am incredibly thankful that we were given the chance to be together this past holiday.
I am so grateful to the men and women of our armed forces and their selfless sacrifices that make our homes here in America a peaceful place to be. Just as Jay's poster looked over Jess as he slept peacefully, our troops keep vigilant watch so that our lives may go on uninterrupted, without questioning the effects on their own lives. I pray that their families find peace and that they be given the opportunity to have this same moment together in the future upon their soldier's safe return. 
May God bless you all.