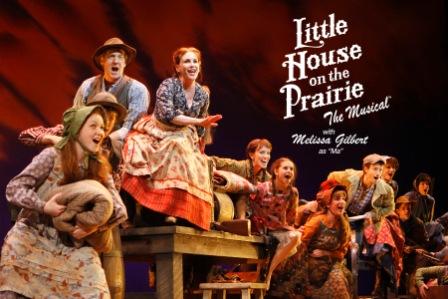 HAPPY SNOW DAY, MAMAS! And congratulations to Tamara Lewis of Fayetteville! She won two tickets to the opening night performance of Little House on the Prairie, The Musical at Walton Arts Center tomorrow night. This giveaway also includes a free dinner at nearby Flying Burrito, one of Tamara's favorite restaurants!
It's Tamara's eighth wedding anniversary Tuesday night, so she's taking her husband Drew with her to dinner and to see "Little House". Tamara and Drew met at Fayetteville High School, but went their separate ways after graduation. They started dating again a few years later and they married in 2002. 
The Lewis' have three children: Cayden, 9, Addye, 6, and Kynzie, 3. Tamara teaches part-time at Mt. Comfort Church of Christ preschool, carts kiddos to all their activities and loves hanging out with extended family.
Tamara and her three sisters all adored Little House on the Prairie and watched it religiously as kids. Tamara's sisters still live in the area and they all get together often, playing cards and games.
ABOUT THE SHOW: Melissa Gilbert, the actress who played Laura Ingalls in the famous television series, is starring in this production as "Ma" and it's directed by the same director as Disney's The Little Mermaid. Little House on the Prairie is about an

American family living in America's newly settled heartland and about all the challenges, heartbreaks and joys they experience there. It's also a love story that tells us how young Laura Ingalls grows up and begins her life as a young woman, finding purpose and finding love.
Show dates begin Tuesday, January 5th and run through the Sunday, January 10th. If you don't have tickets yet to see the show, Walton Arts Center is offering Family Discounts up to 50% off when you buy four or more tickets!

*Click here for more info on tickets and specific show times. Call the box office at 479-443-5600 to ask about the family discount (there are some restrictions, so call for specifics)!
If you don't have tickets yet to see the show, Walton Arts Center is offering Family Disounts
Thanks to Walton Arts Center and Flying Burrito for such a great giveaway. Remember, kids eat FREE all day at Flying Burrito on Mondays through Wednesdays!