Since Friday is Valentine's Day, we thought Mealtime Mama should focus on sweets for your sweet today! These recipes were made with love by our friend, Ceri Wilkin, who blogs over at Recipe Doodle.
For years Ceri has tried out one new recipe a day — and now she share her triumphs and tragedies on her site. Go visit herfor inspiration and great pics! (We wish you could hear her fabulous New Zealand accent when you read her recipes!)
Heart Glazed Cornmeal Cookies
2 cups flour
1/2 cup yellow cornmeal
1/2 teaspoon salt
1 cup unsalted butter, room temperature
3/4 cup sugar
1 egg
1 1/4 teaspoons vanilla extract
1/2 cup confectioners sugar
1 to 2 drops of red food coloring
Heat oven to 400F.
In a medium bowl, whisk together flour, cornmeal and salt.
In a large bowl, using an electric mixer, beat butter and 1/2 cup sugar on medium-high, until creamy, 3 minutes. Add egg and 1 teaspoon of vanilla and beat until combined. With mixer on low, gradually add flour mixture and beat to combine.
Place 1/4 cup sugar in a small bowl, roll dough into 1-inch balls and coat with sugar. Transfer to parchment lined baking sheets. With the bottom of a glass, flatten balls to 1 1/2 inches in diameter. Press a 1-inch heart shaped cookie cutter into each (do not cut through). Bake until cookies are golden at edges, 10 minutes, rotating sheets halfway through. Let cookies cool on wire racks.
In a small bowl, whisk together confectioners sugar, 1/4 teaspoon of vanilla and 1 3/4 teaspoons cold water. Whisk in food coloring. With a small spoon, spread glaze inside heart. Let set 15 minutes.
Enjoy!
Recipe adapted from Everyday Food magazine
Chocolate Heart Turnovers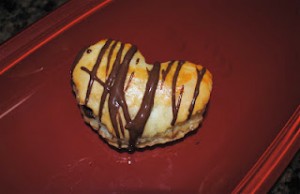 2 cups of semi-sweet chocolate chips
1 teaspoon of ground cinnamon
1 package of puff pastry, thawed
1 egg, beaten with 2 teaspoons of water
1 1/2 teaspoons shortening
Heat oven to 400F.
Combine 1 1/2 cups of chocolate chips and cinnamon in a small bowl, set aside.
Unfold one pastry sheet, roll on lightly floured surface to form a 12 inch square. Cut out shapes with a heart shaped cookie cutter.
Place 1 tablespoon of chocolate mixture onto the center of each of half of the hearts. Lightly brush egg mixture onto edges of each heart, top with a second heart and seal edges.
Transfer to an ungreased baking sheet. Repeat procedure with remaining puff pastry sheet and remaining chocolate mixture. Lightly brush tops of turnovers with egg mixture. Bake 15 minutes, or until light golden brown. Remove from baking sheet to wire rack. Place remaining 1/2 cup chips and shortening in small microwave safe bowl. Microwave 1 minute, stir. If necessary, microwave an additional 15 seconds at a time, stirring after each heating, just until chips are melted when stirred. Drizzle melted chocolate over each turnover.
Enjoy!
Recipe adapted from The Morning News, 2002
Chewy Chocolate Cookies
These yummy cookies don't have any flour in them – or butter! Egg whites are used as the binding agent.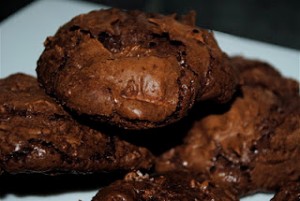 1 3/4 cups powdered sugar
1/2 cup cocoa
2 teaspoons cornstarch
1/4 teaspoon salt
2 egg whites
1 cup coarsely chopped walnuts, toasted (or chocolate chips)
Heat oven to 300F.
Mix together sugar, cocoa, cornstarch and salt. Gradually add egg whites, stirring with a spoon until mixture forms a dough (mixture should be thick enough to form into balls, if not add more powdered sugar and cocoa – I ended up adding another egg because it wasn't coming together, and then had to add extra powdered sugar – maybe if I had of used a stand mixer it might have helped it come together a little more)
Add nuts or chocolate chips, mix well.
Form dough into 15 balls. Place on a parchment-lined baking sheet. Bake 16 to 18 minutes, until glossy and crackled. Cool completely.
Enjoy!
Recipe adapted from Relish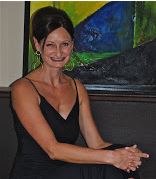 More about Ceri: I am a wife, mother and recipe follower. For years I have tackled one new recipe a day – some are fabulous, some are not. In a past life I was an Occupational Therapist, Rugby and Netball player, Belly Dancer, lesson taker of golf, tennis and wine appreciation. My Husband owns Pizzerias, my Father was a butcher, my Mother a caterer, my older Brother makes the absolute best birthday cakes and desserts you will ever taste, my younger Brother owns restaurants in New Zealand and my kids love to eat.

Note from the mamas: This post originally published on Motherlode in February 2012.
Check out Ozark Natural Foods' new store hours!