One of my daughter's favorite things about visiting her grandparents is the food. MeMee always makes a batch of "famous" (according to an adoring granddaughter) waffles on Saturday morning. I thought I'd share this winning recipe along with some other yummy breakfast treats we like.
MeMee's Famous Waffles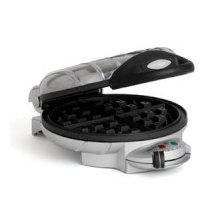 1 1/2 cups self-rising flour
2 tablespoon oil (canola or vegetable)
3 tablespoons sugar
1 cup milk
1 egg (slightly beaten)
Mix all ingredients together (except egg), adding a little extra milk if necessary. Mixture should be fairly thin. Add beaten egg to mixture. Stir to blend. Eat with melted butter and thick syrup for maximum effectiveness. And while you've got out those ingredients, consider making the following delicious muffins.
Fresh Fruit Muffins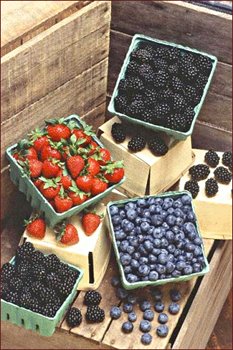 1 cup whole-wheat flour
1 cup all-purpose flour
2 tsp baking powder
2/3 cup sugar
2 T flax seed
1/2 tsp salt
4 oz. almond paste
2/3 cup whole milk
1/4 cup butter, melted
1/2 tsp tsp vanilla extract
1 large egg, slightly beaten
1/4 cup chopped white chocolate
1/2 cup sliced almonds, lightly toasted
1 1/2 cups chopped fresh cranberries, raspberries, strawberries or fresh or frozen blueberries
Preheat oven to 400. Lightly spoon flours into dry measuring cups; level with a straight edge. Combine flours, baking powder, sugar, flax seed and salt into a large bowl. Mix well. Tear almond paste into small pieces and add to flour mixture. Work mixture between your fingers until paste is in very small pieces. Combine milk, butter, extracts, and egg into another bowl and mix well. Add wet ingredients to dry all at once and lightly stir until combined. Add almonds, chocolate, and fruit. Mix until just combined. Do not over-mix. Spoon into 12 greased muffin cups and bake about 20 minutes.
Banana Nut Muffins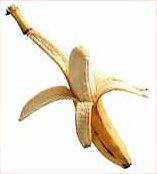 2 cups all-purpose flour
1/4 cup sugar
1 T baking powder
1/2 tsp salt
1 cup milk
1 egg, beaten
1/3 cup vegetable oil
3/4 cup mashed banana
1/2 cup chopped walnuts
Preheat oven to 400. Sift flour, sugar, baking powder and salt into a medium bowl. Make a well in center. Mix milk, egg, oil, banana and walnuts in a small bowl. Pour mixture into well. Mix batter just until moistened. Spoon batter into greased muffin cups. Bake about 15 minutes.
Have a good morning!