The mamas love, love Rice Krispies Treats and these just look so summery and delicious that we wanted to share! These would be perfect for a party or any old day, in our opinion. The Rice Krispies website has lots of ideas here on other ways to improve upon this gooey, delicious treat.
RICE KRISPIES TREATS ON A STICK

INGREDIENTS: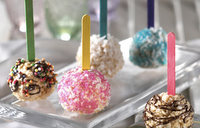 3 tablespoons butter or margarine
1 package (10 oz., about 40) regular marshmallows
– OR –
4 cups miniature marshmallows
Food coloring
6 cups Rice Krispies®
– OR –
6 cups Ready-To-Eat Cereal Cocoa Krispies™
12 wooden ice cream sticks
Flaked coconut
Multi-colored sprinkles
Semi-sweet chocolate morsels, melted
DIRECTIONS:
In large saucepan melt butter over low heat. Add marshmallows and stir until completely melted. Remove from heat. Stir in food coloring, if desired.
Add KELLOGG'S RICE KRISPIES cereal. Stir until well coated.
Using 1/2-cup measuring cup coated with cooking spray divide warm cereal mixture into portions. Using buttered hands shape each portion into ball. Cool. Insert wooden stick, if desired. Decorate with coconut, multi-colored sprinkles and/or melted chocolate, if desired. Let stand until firm. Best if served the same day.
MICROWAVE DIRECTIONS:
In microwave-safe bowl heat butter and marshmallows on HIGH for 3 minutes, stirring after 2 minutes. Stir until smooth. Follow steps 2 and 3 above. Microwave cooking times may vary.
NOTE:
For best results, use fresh marshmallows.
1 jar (7 oz.) marshmallow crème can be substituted for marshmallows.
Diet, reduced calorie or tub margarine is not recommended.
Store no more than two days at room temperature in airtight container. To freeze, place in single layer on wax paper in airtight container. Freeze for up to 6 weeks. Let stand at room temperature for 15 minutes before serving.

Mamas, we know you appreciate Chick-fil-A as much as we do on those days we just DO NOT want to cook! And if you're watching your weight, we love that they have a nutrition guide that includes a meal calculator, diabetic exchange and more useful information. CLICK HERE to go that section of the national website. We'll see you there!