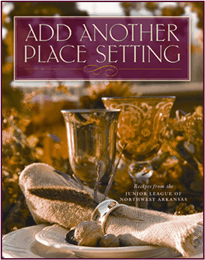 The Junior League of Northwest Arkansas' Add Another Place Setting cookbook is filled with fabulous recipes from cover to cover (click on the cookbook picture to order one!).
I tried a sweet one over the weekend when I had company over. We were all hungry for chocolate — and there wasn't a brownie mix in a box to be found. So I grabbed this cookbook from the shelf and started looking. Aha! On page 170, a 'Chewy Brownies' recipe that I had all the ingredients for. And when they were ready, we all got our chocolate fix.
They really are delicious — you could really tell they were homemade. And I feel strangely virtuous if I make things from "scratch". We did have to improvise with two pans since we didn't have a double broiler, so keep that in mind.
Chewy Brownies
1 cup (2 sticks) butter
6 tablespoons baking cocoa
2 cups sugar
2 eggs, beaten
1 cup all-purpose flour
1 teaspoon vanilla extract
1 cup chopped nuts (optional, I left them out!)
Directions: Combine the butter and baking cocoa in the top of a double broiler over simmering water (or use two different-sized pans if you don't have a double broiler). Cook until the butter is melted, stirring frequently. Remove the mixture to a bowl. Stir in the sugar and eggs quickly. Fold in the flour, vanilla and nuts. Pour into a buttered 8X8 inch or 9X9 inch baking pan. Bake at 300 degrees for 45 to 50 minutes; do not overbake. Remove to a wire rack and let cool for 1 hour. Cut into squares.
Makes 12 servings.
Note: You can order the cookbooks through the Junior League's website (link) or you can find them at various retail outlets across the region. The website offers a complete list.