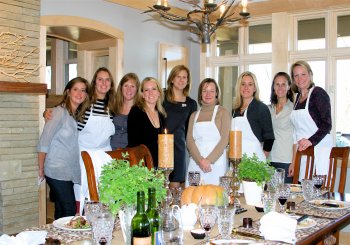 By Shannon Magsam
Jen Lewis of Fayetteville (fourth from the left in the picture above) recently held her first Fresh and Fabulous Entertaining cooking class for eight local women. The meal was so impressive, I wanted to share the full menu with you.
Whether you're looking for delicious recipes to whip up for visiting family or friends this holiday week or for future cooking endeavors, this is a great Fall line-up:
Stacked Roasted Apple Salad w/ Goat Cheese, Arugula and Candied Pecans:
Jen says: This recipe was inspired by a couple of recipes that I had tried and I adapted it to our specific tastes.
8 apples (Braeburn or Gala are great)
1 T of butter
6 cups of Arugula (Ozark Natural Foods)
11oz of Goat cheese (Sam's has the best price)
2 Cups of Candied Pecans, chopped (Wal-Mart)
Reserve some to be sprinkled after they have been cooked
Fresh ground pepper
Apple Cider Vinaigrette:
1/3 cup canola oil or EV olive oil
1/4 cup apple cider
1/4 cup cider vinegar (Handmade) Katz
1 Tbsp. honey
1/4 tsp. salt
Ground pepper
How to prepare:
Mix together vinaigrette ingredients in a small jar or bowl
Preheat oven to 425. Slice apples so that they can be re-stacked with the core removed. Line a baking pan with foil and place apples sliced ends up. Rub apples with butter and then sprinkle with pecans. Put in oven for 10 to 15 minutes. You want the apples to be soft, but still have a little crispness to them. Remove from oven and let sit for 5 minutes.
Put some arugula on a small plate and then the bottom of the apple, layer arugula, goat cheese and then apple slice until the apple is back together. Spoon apple cider vinaigrette over apple and then grind some pepper over it.
Serves 8
Cranberry & Walnut Crusted Straight Pork Roast (With a Port Reduction Sauce):
Jen says: This recipe came from Fine Cooking Magazine, but I changed several things. This is a wonderful fall or winter dish.
1 8-bone pork rack (about 5 lb.), chine bone removed (Richard's Meat Market)
Kosher salt and freshly ground black pepper
2 Tbs. vegetable oil
2 Tbs. unsalted butter
1 medium onion, roughly chopped (about 2 cups)
1 cup ruby port
1/2 cup plus 2 Tbs. good quality balsamic vinegar (Colavita is great)
3/4 cup dried berry blend Peterson Farms (Wal-Mart) (about 4 oz.)
3/4 tsp. dried red chile flakes
Pinch ground allspice
1-1/2 cups walnuts (6 oz.), toasted and chopped medium-coarse
2 Tbs. roughly chopped fresh flat leaf parsley
3 cups homemade or low-salt chicken or beef broth
How to prepare:
Let the roast sit at room temperature for 30 minutes. Position a rack in the middle of the oven and heat the oven to 400°F. Put a roasting rack in a roasting pan or in a heavy-duty rimmed baking sheet. (Line the pan with foil for easier cleanup, if you like.)
Season the pork liberally with salt and pepper on all sides. Turn on the exhaust fan. Heat the oil in a 12-inch skillet over medium-high heat. When the pan is hot, sear the rack of pork until browned on all sides, including the ends, 2 to 3 min. per side. Transfer the meat to the roasting pan, meaty side up. Set aside to cool while you prepare the crust.
Pour off all the fat in the sauté pan, return the pan to medium-high heat, and add the butter. When it stops bubbling, add the onion and reduce the heat to medium low. Cook the onion, stirring occasionally, until soft and medium brown, 10 to 15 min. Add the port, 1/2 cup of the balsamic vinegar, the dried cranberries, chile flakes, and allspice. Raise the heat to medium high and boil until the liquid has almost completely evaporated, about another 10 minutes.
Transfer the cranberry mixture to a food processor and pulse 12 to 15 times to create a slightly chunky paste. Scrape it into a small bowl and fold in the walnuts and parsley. Season with salt and pepper to taste.
Reserve 3 Tbs. of the cranberry mixture in a dish to make a sauce later. Pat the remaining cranberry mixture onto the top and sides of the pork rack.
Roast the pork for 30 min. and then tent a sheet of aluminum foil over the roast for the remaining cooking time to keep the crust from over-browning. Continue to roast until an instant-read thermometer inserted into the thickest part of the meat reads 140°F, about another 30 min.
Meanwhile, in a medium saucepan over medium-high heat, bring the chicken or beef broth to a boil. Add the remaining 2 Tbs. balsamic vinegar and boil until the mixture is reduced by half, about 10 min. Lower the heat to medium and whisk in the reserved cranberry-walnut crust paste. Season with salt and pepper to taste.
Let the meat rest for 10 min. (it will continue to cook as it rests) before carving into chops and serving with the sauce.
Sweet Potato and Yukon Mashed Potato with Maple Syrup and Cardamom:
2 1/4 pounds red-skinned sweet potatoes (yams) and 2 lbs. of Yukon golds, peeled, cut into 1-inch pieces (potatoes can be roasted)
1/2 cup (1 stick) butter
4 tablespoons pure maple syrup
3/4 teaspoon ground cardamom
Salt and Pepper
How to prepare:
Cook potatoes in pot of boiling salted water until tender, about 20 minutes. Drain. Return potatoes to pot; mash. Mix in butter, syrup and cardamom. Season with salt and pepper.
Serves 8
Roasted Green Beans with Caramelized Shallot Butter:
Jen says: I borrowed this recipe from Fine Cooking Magazine. I love roasting vegetables and you can use this technique for any vegetable.
2 lb. green beans, stem ends trimmed
3 to 5 Tbs. extra-virgin olive oil
1 tsp. kosher salt; more to taste
Freshly ground black pepper
How to prepare:
Position a rack in the center of the oven and heat the oven to 475° F. Line a heavy-duty rimmed baking sheet with parchment. In a medium bowl, toss the green beans with enough of the olive oil to coat generously, the salt, and a few grinds of pepper.
Turn the beans out onto the baking sheet and arrange them so that they are evenly spaced. If the beans cover the baking sheet sparsely, arrange them toward the edges of the baking sheet for the best browning. Roast the beans until they're tender, a bit shriveled, and slightly browned, about 15 minutes.
Return the green beans to the bowl in which you tossed them with the oil, or put them in a clean serving bowl. If they seem a bit dry, drizzle them with a little oil. Season to taste with salt, pepper, and another flavoring, if using.
Serves 8
Carmelized Shallot butter: (Make ahead of time)
3-1/2 Tbs. unsalted butter, softened
1 large shallot, finely diced (1/3 cup)
1/2 tsp. chopped fresh thyme
1/2 tsp. finely grated lemon zest
Kosher salt and freshly ground black pepper
How to prepare:
Heat 1 Tbs. of the butter in a small saucepan or skillet over medium-low heat until melted. Add the shallot and cook, stirring frequently, until deeply browned, 8 to 10 minutes. Remove from the heat and stir in the thyme. Cool completely.
In a small bowl, combine the shallot mixture with the remaining 2-1/2 Tbs. butter and the lemon zest. Stir to blend well. Lightly season to taste with salt and pepper.
Scrape the butter onto a small piece of plastic wrap, mold into a log shape, and wrap in the plastic. Refrigerate until ready to use. Toss about one-third of the butter (a generous tablespoon) with a batch of vegetables after roasting.
Roasted Pears with Butterscotch and Vanilla Bean Ice Cream:
Jen says: This is one of my favorite desserts right now. I took this from Fine Cooking Magazine and I love it when pears are in season.
4 ripe but firm pears
1/2 lemon
3 oz. (6 Tbs.) butter, cut into pieces
1/4 cup sugar
1/4 cup firmly packed dark brown sugar
2/3 cup heavy cream
1 tsp. vanilla extract
1/2 tsp. salt
1 Tbs. Scotch whiskey (optional)
How to prepare:
Heat the oven to 375°F. Peel the pears, cut them in half lengthwise and, using a melon baller, scoop out the cores. Rub them all over with the lemon half to prevent browning.
In a large (10-inch), heavy-based, oven-proof skillet, melt the butter. Add the sugar and brown sugar and stir to dissolve. Arrange the pears in the pan, cut side down, in a single layer. Bake the pears uncovered, basting occasionally with the liquid in the pan, until they begin to soften and color slightly. Depending on the pears' ripeness, baking time can range from 20 minutes to 1 hour. Remove the pears with a slotted spoon and set aside.
Transfer the pan to a burner and boil the mixture left behind over medium-high heat until it reaches a rich, golden-brown color and smells like caramel, 2 to 5 minutes. Slowly whisk the cream into the caramel until smooth. Add the vanilla, salt, and Scotch, if using. Serve the sauce over the warm pears.
Spoon Vanilla Bean Ice Cream over Pears and Garnish with a Mint and Sprinkle with Candied Pecans
Jennifer Lewis is founder of Fresh and Fabulous Entertaining, a new Northwest Arkansas business that focuses on the fine art cooking and entertaining. Jen prepares the menu for class participants, the group makes the meal together, then they all sit down to enjoy the fruits of their labor (which is stretching it, since they seemed to be having too much fun for it to be called labor!). Jen offers cooking techniques, entertaining tips, grocery shopping tips and dinner party planning. For more information about how you can take a Fresh and Fabulous class yourself, call Jen at 479-871-4139. Bon appetit!