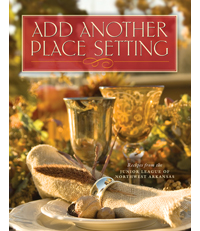 The Junior League of Northwest Arkansas recently celebrated the success of their first cookbook, Add Another Place Setting, with a First Birthday Bash. This beautiful hardcover cookbook, which features more than 200 of the best recipes of the local Junior League, tells the story of Northwest Arkansas through full-color photos, recipes and newsy sidebars.
You can order the cookbooks through the Junior League's website (link) or you can find them at various retail outlets across the region. The website offers a complete list.
The cookbook has a unique intro. It features menu ideas pulled from some of the cookbook's various categories, which include Comfort Food, Farmers' Market, Come On In, Stay for Dinner and Save Room for Dessert (and the categories are color-coded, which we love!) One of the menus is designed for a Book Club gathering, which includes Smoked Salmon Finger Sandwiches; Strawberry Spinach Salad; Tontitown Cream Cake; Sweet Dip for Fresh Fruit; and Mocha Punch. Here are the recipes in detail:
SMOKED SALMON FINGER SANDWICHES
1/2 cup smoked salmon, finely chopped
4 ounces cream cheese, softened
2 tablespoons minced red onion
Juice of 1 lemon
Freshly ground pepper to taste
8 slices thin sandwich bread, crusts removed
Combine the salmon, cream cheese, onion, lemon juice and pepper in a bowl and mix well. Spread over half the bread slices and top with the remaining bread slices. Slice each sandwich into three or four "fingers."
Makes 6 to 8 servings
STRAWBERRY SPINACH SALAD
This dressing can be doubled and stored in the refrigerator for up to four weeks.
Spinach salad dressing:
1/2 cup sugar or Splenda
2 tablespoons sesame seeds, toasted
1 tablespoon poppy seeds
1/4 teaspoon paprika
1/2 teaspoon dried onion flakes
1/2 cup olive oil
1/4 cup cider vinegar
Salad:
2 bunches fresh spinach, or 1 large bag fresh spinach
1 to 2 pints strawberries, sliced
Dressing: Combine the sugar, sesame seeds, poppy seeds, paprika, onion flakes, olive oil and cider vinegar in a jar with a tight-fitting lid and shake well.
Salad: Combine the spinach and strawberries in a bowl. Add the dressing and toss to coat. Serve immediately.
Makes 8 servings.
TONTITOWN CREAM CAKE
Cake:
2 cups all-purpose flour
1 teaspoon baking soda
1/2 cup shortening
1/2 cup (1 stick) butter, softened
2 cups sugar
5 egg yolks
1 cup buttermilk
1 teaspoon vanilla extract
1 (7-ounce) can flaked coconut
1 cup chopped pecans
5 egg whites, stiffly beaten
Cream Cheese Icing:
1/4 cup (1/2 stick) butter, softened
8 ounces cream cheese, softened
3 3/4 cups confectioners' sugar
1 teaspoon vanilla extract
Toasted flaked coconut (optional)
Cake: Mix the flour and baking soda together. Beat the shortening and butter in a mixing bowl until light and fluffy. Beat in the sugar. Add the egg yolks and beat well. Beat in the dry ingredients alternately with the buttermilk. Beat in the vanilla, coconut and pecans. Fold in the egg whites. Pour into three greased and floured 9-inch cake pans. Bake at 350 degrees for 25 minutes or until the cake is done. Cool in the pans for 10 minutes. Remove to a wire rack to cool completely.
Icing: Beat the butter and cream cheese in a bowl until light and fluffy. Add the confectioners' sugar and vanilla and beat until smooth. Spread between the layers and over the top and side of the cooled cake. Sprinkle with coconut.
Makes 12 to 16 servings.
SWEET DIP FOR FRESH FRUIT
8 ounces cream cheese, softened
9 ounces whipped topping
2 cups marshmallow creme
1/2 teaspoon vanilla extract
Combine the cream cheese and whipped topping in a bowl and mix well. Add the marshmallow creme and vanilla and mix well. Chill for at least 1 hour. Serve with fresh fruit.
Makes 8 to 10 servings
MOCHA PUNCH
12 cups hot strong brewed coffee
1 1/4 cups sugar
1 cup chocolate syrup
1 tablespoon vanilla extract
1 teaspoon almond extract
1 gallon milk
1 quart vanilla ice cream
Combine the coffee, sugar and chocolate syrup in a 2-gallon heatproof pitcher. Stir until the sugar is dissolved. Chill, covered, overnight. Stir in the vanilla, almond extract and milk. Scoop the ice cream into a punch bowl and pour the coffee mixture over the ice cream. You may use 2 percent milk, but whole milk provides a better flavor.
Makes 25 to 30 servings