Happy Monday, mamas!
We don't know about you, but we love quiche. This recipe is from the Ozark Natural Foods recipe page (click here to see other great recipes) and it looks delicious.
Sungold Quiche
1 9-inch pie crust
1 small onion
3 eggs
Approximately 3/4 cup milk
1/2 to 3/4 cup fresh chopped sweet peppers or corn
3/4 cup grated cheese (Swiss or cheddar)
Salt and pepper to taste
A generous handful of chopped parsley or basil
Directions: Preheat the over to 425. Chop the onion and saute it. While it's cooking, whisk together the eggs, milk, salt, and pepper. Stir in the cheese, onion, peppers/corn, and chopped parsley/basil. Pour the egg mixture into the pie crust and place the whole tomatoes as desired. Turn the oven down to 350 at the start of baking. Bake for about an hour, or until the filling is set, taking care not to get the crust too dark.
Source: Ozark Natural Foods recipes page via Dripping Springs' CSA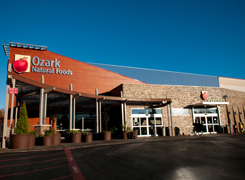 FYI: There's an upcoming event benefiting the non-profit Apple Seeds Teaching Farm that we wanted to share. Ozark Natural Foods supports the teaching farm and recently donated $25,000 to the farm (click here to see more about Apple seeds, the teaching farm and ONF's involvement). The Fund the Farm event is on March 1 at 6 p.m. at Smoke & Barrel Tavern in Fayetteville. It's $5 admission, adults only. Live music will be provided by local bands, including Mike Bewley, Dave Baer, Effron White, Shannon Wurst, Smokey & The Mirror, Candy Lee & The Sweets, and Cutty Rye. Local beer will be provided by Apple Blossom. And ALL proceeds will benefit the Apple Seeds Teaching Farm. Click here for more info!