Is there anything better than hot macaroni and cheese on a cold day? I think not. And it'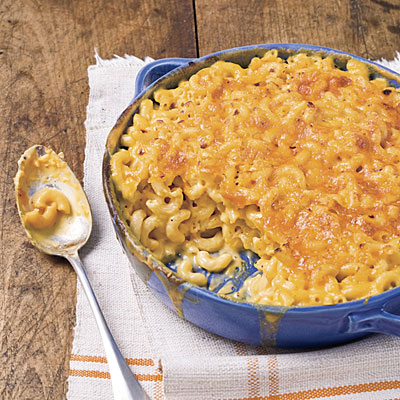 s one of those classic meals that most kids LOVE.
(Did you know mac & cheese is Baby Bop's favorite meal? I know this because my 2-year-old has watched the same Barney video roughly 2 million times — the one where Baby Bop sings about mac & cheese and the song sticks in your head FOREVER.)
We found this recipe in the October issue of Southern Living magazine, and you can also check it out by clicking HERE to visit their website, which is always a great place for finding cooking tips and recipes. Bookmark it!
Classic Baked Macaroni and Cheese
2 cups milk
2 tbsp. butter
2 tbsp. all-purpose flour
1/2 tsp. salt
1/4 tsp. freshly ground black pepper
1 (10-oz.) block extra sharp cheddar cheese, shredded
1/4 tsp. ground red pepper (optional)
1/2 (16.-oz.) package elbow macaroni, cooked
Step 1 — Whisk flour into butter. Preheat oven to 400 degrees. Microwave milk at HIGH for one and a half minutes. Melt butter in a large skillet or Dutch oven over medium-low heat; whisk in flour until smooth. Cook, whisking constantly, 1 minute.
Step 2 — Whisk in warm milk: Gradually whisk in warm milk and cook, whisking constantly, 5 minutes or until thickened. (Note: Whisk warm milk into the flour mixture to ensure a lump-free sauce.)
Step 3 — Whisk in cheese: Whisk in salt, black pepper, 1 cup shredded cheese, and, if desired, red pepper until smooth; stire in pasta. Spoon pasta mixture into a lightly greased 2 quart baking dish; top with remaining cheese. Bake at 400 degrees for 20 minutes or until golden and bubbly. (Note: We recommend shredding your own cheese for a creamier texture. In the Southern Living test, we used Cracker Barrel Extra-Sharp Cheddar.)
(Photo credit: Beth Dreiling Hontzas)