Happy Monday, mamas! Time to think about what to make for dinner all week, right?
Since we know you get tired of the same old recipes (we do!), we've grabbed a few good ones from the Ozark Natural Foods website to share:
Savory Wild Rice
4 cups wild rice
8 cups water
3 TBS butter or olive oil
½ bunch of celery, stalks thinly sliced
1 large yellow onion, diced
1 cup sliced shiitake mushrooms
1 sprig minced fresh sage
1 cup dried cranberries
½ cup sliced almonds
Parmesan cheese to taste
Boil the rice in water until it is cooked. In a seperate skillet, heat butter or olive oil. Add onions, celery, mushrooms, and sage. Saute until cooked. Mix with rice. Mix in almonds, cranberries and parmesan cheese. Let sit for 5 minutes and serve.
~Pauline Thiessen, Produce Manager
Sungold Quiche
1 9-inch pie crust
1 small onion
3 eggs
Approximately 3/4 cup milk
1/2 to 3/4 cup fresh chopped sweet peppers or corn
3/4 cup grated cheese (Swiss or cheddar)
Salt and pepper to taste
A generous handful of chopped parsley or basil
Preheat the over to 425. Chop the onion and saute it. While it's cooking, whisk together the eggs, milk, salt, and pepper. Stir in the cheese, onion, peppers/corn, and chopped parsley/basil. Pour the egg mixture into the pie crust and place the whole tomatoes as desired. Turn the oven down to 350 at the start of baking. Bake for about an hour, or until the filling is set, taking care not to get the crust too dark.
~From the Dripping Springs CSA Newsletter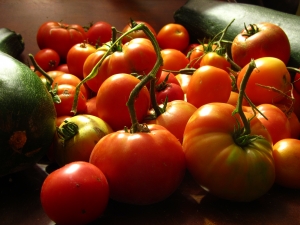 Barry from the ONF Farm and Garden Department recently shared a little secret with owners to help dramatically improve their tomato crop. It's a kit for the small backyard gardener from Nitron. Each kit ($34.99 at ONF) contains enough material for five tomato holes. They also carry Nitron's tomato booster in a pint or a quart.  This is used in conjunction with the kit. Some info about the kits:
The Tomato Starter Kit is an assortment of Nitron products that can be used to start your own organic tomato garden. This organic kit contains everything you need to prepare the soil, fertilize the seeds, and supplement for the entire growing cycle of the tomato plant. The kit contains only all natural organic fertilizers and plant treatments, and makes growing your own tomatoes a 100% natural and chemical free process.
The mamas love tomatoes and a bumper crop sounds great. We always have bacon on stand-by for the perfect BLT 🙂