Guest post by Kristina Starnes, speech language pathologist specializing in pediatric feeding
Dinner time can be anything but enjoyable at times. Not only for those families faced with the challenge of having a very selective eater, but for a lot of families in general.
We start our days often in a rush, getting child A to school on time while child B is crying for basic needs in life like food, diaper change, etc. Once the day has begun we get into our groove and may be trying to accomplish a lot of needed tasks in the day before picking up the kids from school and tackling homework and any extracurricular activities that have been tossed into the week.
Sitting down together at the table for dinner as a family does not always happen as we would like and often a mealtime battle will begin at the table with the "I don't want to eat this…I'm NOT eating this"…so on and so forth. Many of us have been there!
Before sitting down to write I had several former feeding therapy kiddos in mind.
I thought of the families who had spent a lot of time and energy trying to make mealtime happy for their child. A child who already struggles with trying new or different foods does not have the same mealtime experience or experience in general about food as most of us do. I suggest taking the time to fall into a relaxed, somewhat predictable routine if you have found this a challenge.
Establishing a Mealtime Routine:
I'll use the name Ethan as an example. A routine could begin with Ethan watching a favorite show or movie while the meal is being prepared. Keep in mind that it takes multiple exposures to a new food before acceptance. Start by adapting foods that your child already knows and accepts.  Small changes and familiar textures and flavors will allow for greater success! It is also helpful to start talking about what you are having for dinner at the start of the day "Its chicken night Ethan"— talk about it again on the drive home from daycare.
Little jobs in the kitchen…can be as simple as Ethan picking the plates or pushing some buttons on the microwave. How about having him sprinkle some cheese on the quesadilla, shake some salt or seasoning on one of the dishes. This will help him feel like a pretty big helper and hopefully be the start of a more relaxed mealtime for the whole family.
At our home we sometimes turn on the music at dinner or have a candle. The point being to create the routine so he knows what will happen next: First this, then that, then time to eat. You want this to be as free of stress as possible and start turning the process into one you all look forward to. I know it feels like so much of a hassle at first but this will get easier.
You will probably find your own routine and way to de-stress everyone. I do think it's important for us as parents to keep the stress out of our lives so the kids don't pick up on it. For some this may be a walk around the neighborhood (depending on how hungry everyone is and the amount of time you have), for others it may be sipping a glass of wine while preparing the meal or turning on some favorite music.
I've included some recipes below that are power packed with veggies along with a fun little dessert or snack that you can easily make in less than 5 minutes!
Samurai meatballs
This is a milk and egg free recipe that is fairly simple and fun to eat! If not avoiding eggs you can replace the egg-free mayo with regular and the panko breadcrumbs with regular.
1/2 package frozen chopped spinach, cooked on stovetop or steamed then pureed
1/2 package lean ground turkey (approximately 3/4 pound)
1 tablespoon egg free mayo
1/3 cup whole wheat panko crumbs
sea salt, garlic powder and onion powder to taste
Preheat oven to 350 degrees. When mixed together, roll into balls and place on a greased cookie sheet ( I also used mini muffin pan) Bake for 30 minutes.
Note from Kristina: My daughter enjoyed eating these on a wooden skewer and dipping them into her favorite dipping sauce which was presented in a Smile across the plate (see photo above). I would make one change and that would be to make smaller meatballs because they were a little too big for that perfect bite-size! Hope you enjoy!
***Disclaimer: Be careful with pointy Skewers! I've already gotten 'scolded' by Nana who suggests "transferring them to a plate and eating with a fork"
Veggie surprise mashed potatoes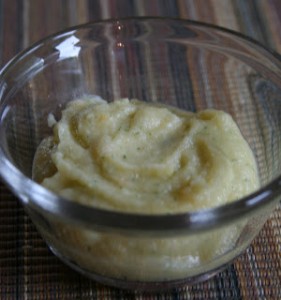 What You'll Need:
½- ¾ cup sliced zucchini
1 cup cauliflower
1 cup potato flakes
Dash of sea salt and garlic salt
1 tablespoon light butter
¼ cup shredded sharp cheddar cheese
1. Steam the zucchini and cauliflower. (I used a microwave steamer bag)
2. In a separate bowl mix the potato flakes with ~ ¼ cup skim milk and ¼ cup water and add the butter and cheese, place in microwave for 3-4 minutes
3. Puree the steamed veggies (I am loving my Magic Bullet …makes a super smooth mixture) and add to the potato mixture. Voila! Yum yum.
It's always a good sign when the 3 year old asks for More! Matching taste and texture to the 'preferred' food (mashed potatoes) is the secret to success.
Yogurt dippin' dots
This one is fun and easy!  Take a container of any favorite yogurt and empty into a ziplock bag.  Cut a small opening in one corner of the bag and squeeze little dots onto a baking sheet.  Freeze.  Scrape off your dots into a bowl, grab a spoon and enjoy!  I've also used a decorator frosting tip which made a pretty design. Enjoy!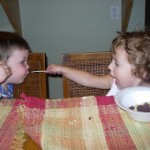 Kristina Starnes lives in Fayetteville with her husband, Chris, and their 2 girls.  She is a Speech Language Pathologist who specializes in pediatric feeding disturbances.  Kristina loves to teach children and babies of all ages about food and overcoming obstacles to make mealtimes happy and healthy. She enjoys creating recipes and adapting them according to a child's specific oral motor and sensory needs.  To read more about pediatric feeding disturbances and ways you can help your child as well as when to refer to a feeding specialist check out Kristina's blog at www.pickytots.blogspot.com and her Facebook page here.