Celebrity Chef John McLemore will be signing his brand new cookbook, "Dadgum, That's Good, Too! at the Cabela's Sporting Goods grand opening on Thursday morning near Pinnancle Promenade.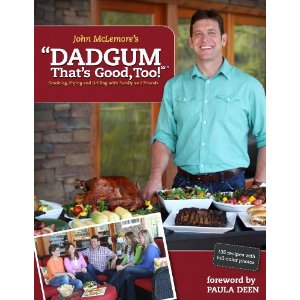 We asked John, CEO of Masterbuilt, a few questions and to share two of his favorite recipes:
Which cookbooks will you be signing at the Cabela's opening? My new cookbook, "DADGUM That's Good, Too!" (and I will also sign my first cookbook, "DADGUM That's Good!" for anyone who brings one.)
What was the first meal you recall making? Fried fish with my dad.
Why (and when) did you decide to write your first cookbook? I always wanted to write a cookbook and share recipes from all of our travels and family get-togethers, but really became serious about it in 2009.  QVC requested a cookbook that would be a guide for all of our cooking products and it became that and so much more.
Does your wife leave most of the meal prep to you? What's her favorite thing for you to make? I do most of the prep and cooking for the main dish and Tonya prepares the side dishes. She loves my smoked prime rib and smoked salmon.  She is a big fan of our Grilled Blackberry Cobbler, also.
What about the kids' favorites? Do you have any picky eaters among your three? There are no picky eaters in the McLemore house.  The kids really love grilled steak and smoked mac n' cheese.  One of their favorite desserts is fried donuts.
Here are two of John's favorite recipes:
Cajun Fried Turkey
1 10 to 12 pound fresh or frozen turkey
3 Gallons oil for frying
1 (12-ounce) jar Butterball Buttery Creole Marinade
Butterball Cajun Seasoning to taste
Directions: Completely thaw turkey, if frozen. Preheat oil to 400º F. Remove giblets and neck; reserve for other uses. If present, remove and discard plastic leg holder and pop-up timer. Rinse turkey well with cold water; drain cavity. Dry turkey well with paper towels. Inject 1/2 cup marinade into each side of breast. Inject 1/4 cup marinade into each leg and thigh. Sprinkle turkey generously with Butterball Cajun Seasoning. Place turkey, breast side up, in basket. Slowly lower basket into hot oil; be cautious of splattering oil. Maintain oil temperature around 350º F. Fry turkey for 3 1/2 minutes per pound. Remove from oil to check doneness. Insert an instant-read thermometer in the meaty part of the thigh; it is done when it reads 180º F. Remove from hot oil and drain on paper towels. Let rest 15 minutes. Carefully carve with sharp knife.
Low Country Boil
½ cup Butterball® Cajun Seasoning (or your favorite seafood boil seasoning or bag)
2 lbs. of whole new potatoes
8 to 12 pieces of short-ear corn
2 lbs. pre-cooked smoked sausage (­ to 1-inch thick slices)
2 lbs. shrimp, preferably split and deveined
Dipping Sauce:
½ cup butter
4 medium cloves garlic, minced
Serves 4 to 6
Directions:
1. Fill Butterball® or Masterbuilt Fryer to the MAX fill line with water. (NOTE: If using a seasoning bag, place bag in basket.) Set heat to 375° F and bring to a boil. This will take approximately 20 to 25 minutes.
2. Add whole potatoes to basket and lower carefully into boiling water; boil for 12 minutes.
3. Add corn to the potatoes, and boil an additional 9 minutes.
4. Add sausage to the potatoes and corn, continuing to boil for 9 more minutes.
5. Lastly, add shrimp. Boil for an additional 3 to 5 minutes until shrimp are pink. Total cooking time for the boil is 33 to 35 minutes. Lift the basket from the hot water slowly, hooking the drain clip on the basket into drain clip mounting hole. Allow Low Country Boil to drain, and serve hot.
Dipping Sauce:
1. In a medium saucepan, melt butter over a low heat. Add minced garlic and mix. Drizzle butter sauce over each plate or serve on the side.
***You can substitute 1 lb. of crawfish for 1 lb. of the shrimp in this recipe.***
Don't forget: John will be signing autographs at the Cabela's grand opening on Thursday (Aug. 30) at 9 a.m.!