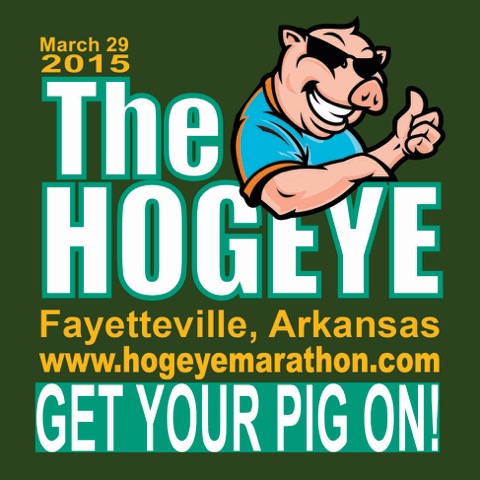 Guest Post by Beth Gallini
Have you ever wanted to start running or had an itch to sign up for a race? Now is the perfect time!
The Hogeye Marathon is March 29th and we're here to help you busy moms who are interested in running or want to train for a race. We'll guide you through getting started and answer your questions so you can have a successful training cycle and a great race.
The Hogeye is a local non-profit organization that hosts a marathon, half-marathon, 4-person relay, corporate challenge, and 5K (and a kids marathon too!) each year.  It is made possible by volunteers and all proceeds go back into the local community. Race day is approaching and it's time to put a plan in place for your training!
You may be asking Why. Why should I start running? What does everyone love about it? And isn't it bad for your knees?
It's not actually bad for your knees – that's an old wives' tale! Aside from the obvious reasons people start running (increasing activity, losing weight), there are many other reasons so many people fall in love with running: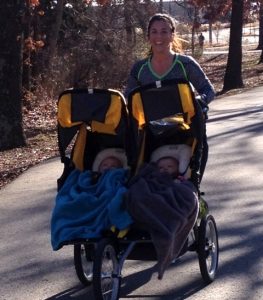 ◊ Clear your head and relieve stress – Whether work is busy, you are going through a tough time, or you have a problem to sort out, going for a run is a great way to clear your head.
◊ Gain energy – You'll feel more energetic and reap the rewards of endorphins.
◊ Give yourself "me" time – By taking care of yourself and giving yourself time do something that is enjoyable, you will be a better mom and better able to take care of those who need you.
◊ Achieve goals – Running provides endless opportunities to set goals, work towards them, achieve them, and then continuously repeat that cycle. This fosters feelings of pride and accomplishment and improves your self-esteem.
◊ Set a good example – As a mom, you know your kids are observing you and learning from you. As a runner, you are a great role model for your kids – you are active, taking care of your health, following through with a commitment, and trying new things.
◊ Meet new people – Runners are fun people and they like to be social!
Feeling a little lost? Here are some tips for getting started:
◊ Get fitted for shoes – This is my biggest piece of advice!  Don't buy the shoes your sister loves, don't use the old tennis shoes in your closet, don't buy the prettiest shoes, and don't go to a big-box outdoor store.  Go to a specialty running store, be prepared to spend around $100, and get fitted for the right shoes for you.  Not having the right shoes is a leading cause of injury and, if you are injured, you won't be able to run.
◊ Don't worry about pace or mileage – As a beginner, it is easy to compare yourself to others. Everyone was a beginner at one point and the important thing is you are out there.  You may want to start by tracking your runs by time and not pay attention to how far or how fast you run.
◊ Start with a run/walk rotation – You can condition your body and learn to run further by setting up a run-walk-run rotation.  Perhaps start by running 4 minutes and walking 1 minute and adjust the time you do each as your body adapts to running.
◊ Don't do too much too soon – It can be exciting to start something new; however doing too much too soon can lead to injury.  Start with shorter distances, don't run on consecutive days, and slowly increase your mileage.
◊ Follow a plan – Beginner training plans are readily available online or you can sign up for group training at Fleet Feet in Fayetteville for the marathon and half marathon.
◊ Have fun – Remember to have fun!  Don't put too much pressure on yourself and keep running enjoyable
Be sure to register before the price goes up on December 31st and encourage your friends and family who aren't running to volunteer – there's something for everyone.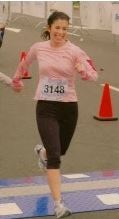 About Beth: Beth is a stay-at-home mom, marathon runner, and the blogger behind RUNNING around my kitchen. She is a certified running coach through the Road Runners Club of America and offers personalized online coaching services for runners of all levels of experience. She and her husband adopted two boys who are a month apart and just celebrated their first birthday. Beth serves on the board for the Hogeye Marathon and is interested in helping other moms with their training and answering any questions you have. Be social, connect with other Hogeye runners, and let them hear from you by following them on Facebook, Twitter, and Instagram! #hogeyemarathon