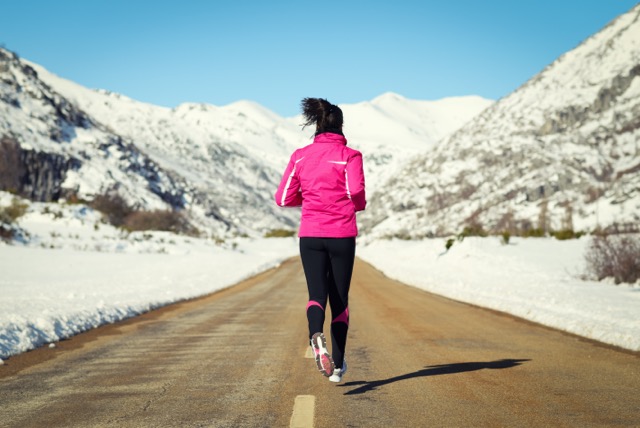 By Beth Gallini, runner mama of 2
Happy New Year!  Is running or entering a race one of your New Year's resolutions?  If so, today is your lucky day!  Anyone who registers for the Hogeye marathon or half-marathon will receive a pair of Hogeye arm warmers!
One common obstacle to running this time of year is the weather.  It is cold outside and it can be hard to pull yourself out of a warm home and even harder to know what to wear sometimes.   You never know what the weather will be like on race day though, so it is a good to have some experience running in adverse weather.
Here are 8 tips for running in the cold:
1. People will differ in what they are comfortable wearing in the cold and it may take some trial and error to find where you fall on the spectrum.  My husband and I will go out for a run in the same weather and will be dressed very differently!  Runner's World offers this guide for general advice on how to dress at different temperature ranges:
◊ 30 degrees: 2 tops, 1 bottom.  Long-sleeve base layer and a vest keep your core warm. Tights (or shorts, for polar bears).

◊ 10 to 20 degrees: 2 tops, 2 bottoms. A jacket over your base layer, and wind pants over the tights.

◊ 0 to 10 degrees: 3 tops, 2 bottoms. Two tops (fleece for the cold-prone) and a jacket. Windbrief for the fellas.

◊ Minus 10 to 0 degrees: 3 tops, 2 bottoms, extra pair of mittens, 1 scarf wrapped around mouth or a balaclava.

◊ Minus 20 degrees: 3 tops, 3 bottoms, 2 extra pairs of mittens, 1 balaclava, sunglasses. Or stay inside.
2. Dress in layers.  Wear a moisture-wicking top as your bottom layer so you stay dry and keep your bottom layer fitted to trap heat.  If you want to shed a layer after you warm up, you can route your run so that you pass by your car or house.
3. Really at a loss? If so, you can go online and get suggestions on what to wear from Runner's World What to Wear or Dress My Run.
4. A good rule of thumb is to dress as if it were 10 degrees warmer.  You want to be slightly cold at the beginning of your run because your body will warm up.  If you aren't cold when you start your run, then you will be too hot when you warm up.
5. Don't forget to hydrate!  You won't feel as thirsty, but it's still important to hydrate on longer runs.
6. Warm up. Change into warm clothes as soon as you get home, otherwise you'll get a really cold case of the chills!
7. Here are a few key pieces of clothing and accessories that can be really helpful during the winter months:
Fleece lined tights – the inner fleece lining provides an extra layer of warmth

Quarter zip top – the quarter zip allows you to have a little extra coverage before you warm up and you can unzip it if you warm up and want a little air

Hand warmers – sticking hand warmers in your gloves with keep your hands extra warm

Tops with extra room – when buying winter tops, keep in mind that you may want to wear layers underneath

Shirts with thumbholes – these are great for times when you might not want to wear gloves for your entire run

Weather-proof jacket – it will keep the cold air out, block the wind, and keep you dry in the rain

Hat or visor – it will keep the water out of your face in the rain

Beanie hat, ear warmers, gloves – all of these will help trap heat

Dry shoes – if your shoes get wet during a run, make sure they are dry before wearing them again (pull the insoles out and stuff them with newspaper to help them dry quickly)
If it's icy or just really nasty outside, the treadmill is always an option.  I'll share some ways to keep the treadmill interesting in my next post!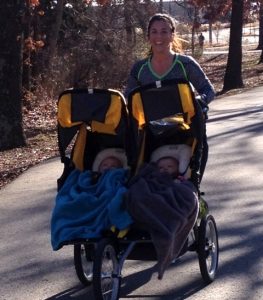 About Beth: Beth is mom, runner, running coach, and the blogger behind RUNNING around my kitchen.  She and her husband adopted two boys who are a month apart and just celebrated their first birthday. Beth serves on the board for the Hogeye Marathon and is interested in helping other moms with their training and answering any questions you have.   Be social, connect with other Hogeye runners, and let them hear from you by following them on Facebook, Twitter, and Instagram!  #hogeyemarathon