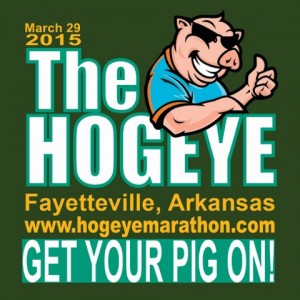 The Hogeye Marathon is about a month away and there's something for everyone – races of all distances, volunteer opportunities, and lots of room to just watch the running show.
We'll have two more posts from Northwest Arkansas mom Beth Gallini in the Marathon Mama series before race day and Beth said she'd love to hear from new runners (or any level, really).
If you have a question for Beth — or if there's a topic you'd like to see covered here — feel free to email her at efgallini@gmail.com.
Here's Beth's latest Marathon Mama post:
At first running seems straightforward – lace up your shoes and head outside.  However, it won't be long before you'll find yourself getting more curious about how you can take things one step further.
Whether you want to extend how far you can go, reach the finish line faster, or become a stronger runner, varying the types of runs you do each week can help.
Here are different types of runs you can add to your training: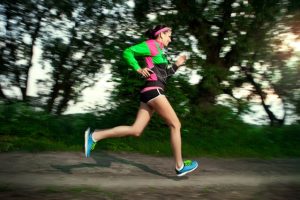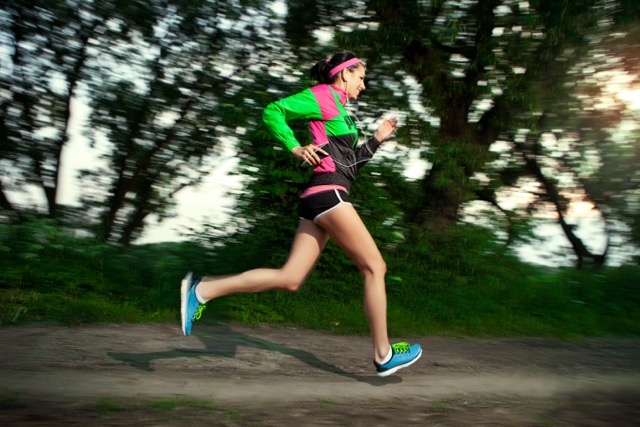 Long run – The long run is a staple run for any distance runner.  In its simplest form, this run is the longest run of the week.  The length of your long run will vary according to your goals.  Someone training for a 10K or half marathon will have shorter long runs than someone training for a marathon.  These runs are normally run at a slow pace (60-90 seconds slower than your goal pace).
The goal is to get accustomed to being on your feet for longer periods of time.  You will get the same physiological benefits as you would if you ran faster, but you will reduce your risk of injury by keeping your pace easy.
Easy/recovery run – Easy runs are run at a slow pace and are runs that allow you to get extra mileage during the week while allowing your body to recover from harder workouts.
Speed work — The last post in this series covered how to introduce speed work and I would encourage you to reference those tips before adding in any of the speed workouts below:
Fartleks – Despite the silly name, fartleks are a great way to introduce speed work.  Fartleks are unstructured speed work where you add surges of speed into an easy run.  You can do this by running fast until you reach the third street light, five cars pass you, or any other form of measurement.
Hill repeats – Hills are speed work in disguise and will quickly make you a stronger and faster runner.  To perform hill repeats, you will want to find a hill that will take you 20-90 seconds to run up, run at about a 5K effort, and then run easy downhill for recovery.  Hills encourage proper form and will make you a more efficient runner.
Tempos – Tempo runs help you learn how to run faster for longer periods of time.  They are run at a "comfortably hard" pace that falls between your 10K and half-marathon pace.  Those who are new to tempo runs or training for shorter distances will want to work up to a tempo run of about 20 minutes in length, whereas more experienced runners or those training for longer distances will want to work up to a 40-60 minute tempo run.

Intervals –

Intervals are a more structured and advanced form of speed work and should only be introduced once you have a comfortable base and have already incorporated other forms of speed work.   Tracks are the best place to run them because they are flat, a standard distance, and you can easily measure how far you are running.   One lap around most tracks is 400 meters, which is a quarter of a mile. Common interval workouts include 400s, 800s, or 1600s with a recovery distance in between each interval.  You will want to run hard for each interval, but do not go all out.
Rest days – Taking days off to allow your body to recover are just important as all of the other training you do!
McMillan Running offers a calculator where you can enter recent race time and it will provide you with training paces for a variety of runs.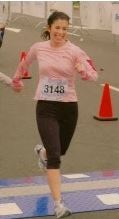 About Beth: Beth is mom, runner, running coach, and the blogger behind RUNNING around my kitchen.  She and her husband adopted two boys who are a month apart and are 1 year old. Beth serves on the board for the Hogeye Marathon and is interested in helping other moms with their training and answering any questions you have.   Be social, connect with other Hogeye runners, and let them hear from you by following them on Facebook, Twitter, and Instagram!  #hogeyemarathon