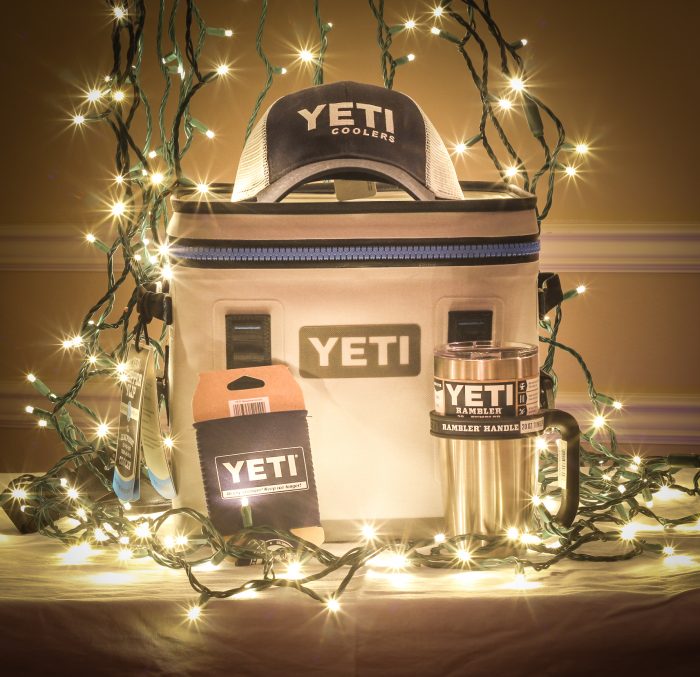 Happy Wednesday, mamas! We've made it to the midway point, and that calls for a fun giveaway celebration from a new company in Northwest Arkansas (and a new sponsor here on nwaMotherlode). DUO Lawn Care is bringing Christmas a little early with this Yeti gift bundle, which one local mama will win.
DUO Lawn Care spends most of the year making lawns beautiful in Northwest Arkansas, but when our yards take their "long winter's nap," the company also offers holiday light installations, removal and storage. The service is called "Lights by DUO." Here are some of the gorgeous homes they lit up last year. Sooooo pretty.
To celebrate the beginning of the holiday season, the company wanted to provide a fun giveaway along with a festive "hello" to the moms of Northwest Arkansas. If you'd like to see your home lit up for the holidays this year but don't necessarily have the time, talent or equipment to do it right, these guys do. (And don't even get us started on the MANY reasons why your husband and/or you should NOT be climbing around the roof and on tall ladders to do this yourselves. One of my neighbors fell off a ladder a few years ago, and it seriously took him months of medical treatments and physical therapy to recover from that serious injury. Nobody wants to have a broken leg, or worse, for the holidays.)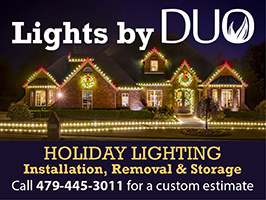 Lights by DUO provides customized estimates for each home, and the price depends on what you'd like to do as well as the size of the project. If you'd like them to dream up something amazing for you, they can do that, too, and will tell you exactly what to expect for cost. The price not only includes the lights themselves but also installation, removal after the holidays and off-season storage of the lights (so you won't have to put yet another storage box into your garage or attic). The lights used are commercial-grade, low energy LED bulbs. All colors are available and can be completely customized.
We love how this company's owners, Ryan and Kelly Melancon, came up with their business name — DUO. Because they operate the business on the same faith-based principals on which they live, they named the company DUO by combining the first letters of the first three words of the  Golden Rule: "Do Unto Others as you would have them do unto you." Ryan and Kelly are parents to two girls and a boy — Serah, age 8, Laurelyn, age 7, and Hunter, age 5.
The company also believes in giving back to the community in which they work, which is why 5% of all holiday light installation sales will be donated to the non-profit CASA of Northwest Arkansas. (CASA stands for Court Appointed Special Advocates, and these volunteers chaperone kids in foster care through the legal system so that they never have to go to courtroom hearings or appointments alone. They always have an adult who is on their side and looking out for their best interests.)
HOW TO ENTER: If you'd love to win the Yeti bundle from Lights by DUO, click on the word "comments" (right under the headline of this post) and scroll down to the bottom of the comments posted by other moms.
Then write a quick comment telling us your favorite kind of holiday lights. All white all the time? Do you like the big colored bulbs? What about when people outline the tree limbs in their front yard trees, or do you like walkways lined by lights?

You can also email your answer to us at giveaways@nwaMotherlode.com.
INCREASE YOUR ODDS OF WINNING: Help us spread the word about this giveaway by emailing your friends and family about the giveaway. We'll give you an extra chance to win for every person you tell. Just be sure to put giveaways@nwaMotherlode.com on the CC line of your note so we can give you proper credit.
Our newsletter subscribers get access to the good stuff, including exclusive giveaways (like this one), information about local events, local mom interviews, recipes and more.
The nwaMotherlode newsletter is delivered straight to your inbox so you don't miss anything awesome. CLICK HERE to sign up. We won't fill your inbox with info, no worries. We only send out newsletters when there's something in it for you — and we know you'll be interested in hearing about it.
BE SOCIAL: You can also earn extra chances to win by commenting on our Facebook page, following us on Twitter or following us on Instagram. If you do any of those, just mention it in your comment or email so we can give you proper credit.
We'll choose a winner at random by next Wednesday, so watch your inbox!