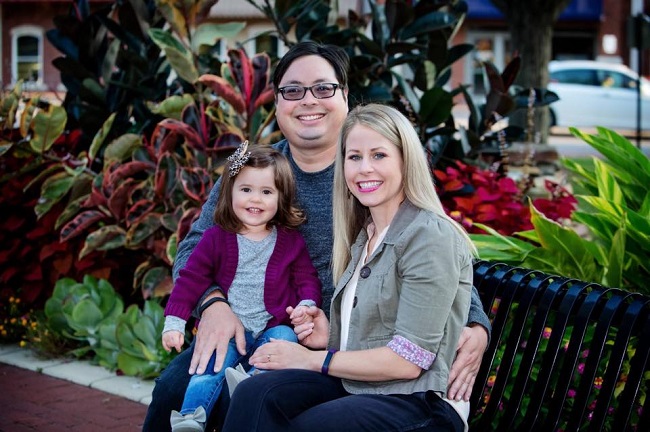 We've known Beth Bobbitt for many years, from when she was working at Walton Arts Center. She's absolutely delightful and NWA is lucky to have her here! Now she's mama to Edie, 22 months, and works at Crystal Bridges.
It was good getting to know Beth even better in this Q&A:
If you knew then what you know now about childbirth, what would you tell your past self?
Your birth plan is not sacred. I had a vision for a natural birth. Almost nothing went as planned and she was born via c-section. I was disappointed but able to reconcile that with the fact that I had a perfect and healthy baby!
Tell us about your position at Crystal Bridges Museum of Art? How fun is that?
It's pretty amazing. When my husband and I plan a trip, he scopes out the eateries and I look for art museums. So in other words, I feel like I am on vacation every M-F. And I'm in PR/Communications so I get to share my passion for the museum as part of my role.
OK, quick, tell us something cool coming up at the Museum that we might not know about? 🙂
In January, we'll offer a new series: Tots & Tales for toddlers! We also have a class for babies and ongoing classes and an Experience Art Studio for all ages. It's never too early to introduce our kids to new ways of playing and seeing the world.
What are your favorite places to hang out in NWA as a family?
There are so many cultural amenities like Crystal Bridges, the Amazeum, Walton Arts Center, and Trike Theater that are great for families! We also love being outside and exploring the beautiful trails and parks.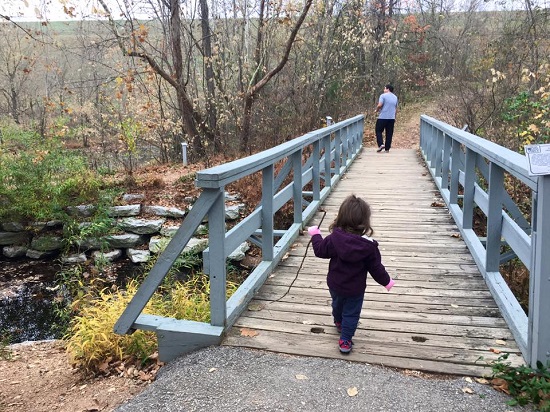 What's your guilty pleasure?
Netflix. And ice cream. Preferably together.
How did you and your husband meet?
We both grew up in Rogers. I think we actually had study hall together in junior high. We both moved away from NWA and eventually re-met through our jobs when we moved back.
What's the last thing you ate in peace (AKA without the kiddo)?
See above, guilty pleasure question.
What's the last thing you laughed out loud about?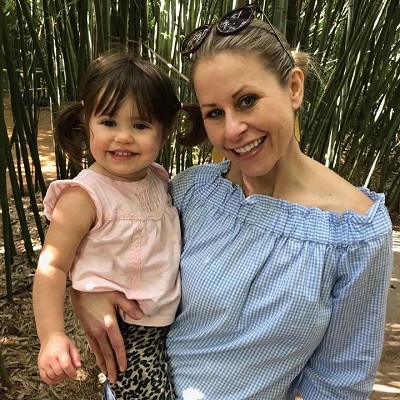 I'm always laughing at Edie. A couple nights ago, I heard her in bed talking to her stuffed animals: "Penguin, lay down!" and "Kitty-cat, sit there!" …she's so bossy, I don't know where she gets it. 🙂
What's something new you'd like to try? Why?
I really want to take a creative writing or video production class. I write a lot in my professional life, but I think fiction or poetry would be a fun escape!
How would your best friends describe you?
I would hope they describe me as fun and supportive.
If you could name one place as your most relaxing oasis, what would it be? Why?
I'm imagining a cabin in the mountains with a paint brush in one hand, coffee in the other, and music in my ears.
What do you most want people to remember about you?
"I've learned that people will forget what you said, people will forget what you did, but people will never forget how you made them feel."
~Maya Angelou
I want people to feel special.
One word to sum me up: Grateful.
Click here to read more 5 Minutes with a Northwest Arkansas Mom interviews. Our many thanks to First National Bank of NWA for sponsoring this feature, which celebrates all the unique moms here in Northwest Arkansas! CLICK HERE to visit the FNBNWA website or follow them here on Facebook. FNBNWA is a full-service bank and has multiple branches, including:
801 N Dixieland Road, Rogers, 479-621-6800
3706 Pinnacle Hills Pkwy, Rogers, 479-464-9060
E. Pleasant Grove Rd., Lowell, 479-659-7100
350 E. Centerton Blvd., (Hwy 102), Centerton, 479-795-4200
2638 E Joyce, Suite 1 Fayetteville, 479-856-7800
Save
Save