By Shannon Magsam, Ladybug's faint-hearted mama

I hate scary movies. I don't like filling my mind with images I inevitably recall at inopportune moments –like when I'm walking out to my car in a dark parking garage. So what if the parking garage is at the public library? Dark parking garages are just creepy.
My husband says I'm weird. He says most people like scary movies.
"It's cathartic," he argues. "Like riding a roller coaster — it's a shared terror experience."
And the bottom line, he says: "It's fun to be scared."
Not.
Ladybug agrees with her dad – to a point. This October 31st she wants to decorate the house "really scary" and just hand out candy. But last weekend she was more in my "scary sucks" camp.
John, Ladybug and I went home over the weekend (do you still call your parents' house "home"?) for our annual haunted hayride/pumpkin patch excursion. On Saturday, we all bundled up and took the kids to a local pumpkin patch. They not only had rows and rows of pumpkins, but there was also horseback riding, pony riding, rock wall climbing, snow cones (the kids had grape-flavored and ate it around a fire pit), corn mazes, hay bale tunnels, corn dogs as long as a 3-year-old's arm and hay rides.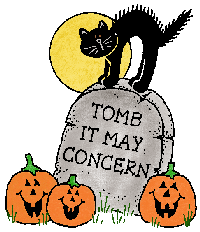 We did everything except the hay ride. For one thing, we were out of money, but also because we had our hay ride planned for later that night. And it wasn't gonna cost $5 a head.
Normally, my sister, Gena, and I decorate the "Coyote Trail" on my parents' farm. Then my dad rigs up a tractor and hay-filled trailer and we all ride around in the darkness trying to get a rise out of each other – and pointing out the Halloween decorations. But this year, Gena and our two sisters-in-law, Jen and Lynda, decided to create a haunted house instead of a haunted hay ride.
First, Gena and I went to the closest little town and bought out the Dollar Store, chucking into our cart: spiders, rats, yellow caution tape, talking skeletons, spider webs, skull lights, a Scream mask and more. We left my long-suffering husband and dad to help the kids carve their pumpkins. I once nearly liberated my thumb from my hand, so I'm not keen on that duty.
After we got back, the men hung out with the sugar-filled kids in the house while the girls went to work. One of my jobs was to set up a creepy entryway table. I covered it with disgusting delights: cold, watery macaroni (guts); a leftover waffle from breakfast (part of a brain); an oversized bowl of pumpkin innards (speaks for itself); and a pine cone (not sure why).
After it got dark – and we were finished working our magic on the old tool shed – we went in to set the mood with the kids. Lynda was to be the leader and she really worked them up by telling them that we had chipped away at a brick wall and found this secret, haunted room. As the troops all began following her out the door, she mentioned that some of the creatures had escaped into the night after the brick wall came down.
My daughter decided then that she wanted no part of this particular event.
She stayed inside with her dad while everyone else trailed behind Lynda to see what terrors were in store. I went outside with the rest to dip the kids' hands in the macaroni, waffle, pumpkin and pine cone. They were gratifyingly disgusted.
A few (dozen) screams later, we were ready to go on our hay ride. My sweet niece, Marissa, enticed Ladybug out of the house and onto the trailer.
But for most of the ride, my daughter had her head stuck under my arm. She did look up when my dad saw two does standing in the road ahead. She hunkered back down when one of the grownups said no, that was probably one of those escaped creatures. Heh.
I could tell she was having a little fun, though. I did cajole a few grins out of her.
She wasn't grinning when her grandfather stopped the tractor and said he'd run out of gas and announced we'd have to walk the rest of the way home. Luckily, the tractor started back up. False alarm, PaPaw said.
When we got back, we roasted weenies and marshmallows by the campfire. And by the light of the skulls in the haunted tool shed.
Ladybug resolutely stayed away from that grisly scene. Until the next morning, when the sunshine was streaming in through the copious cobwebs.
"It really didn't look that scary," she announced, brave in the broad daylight.