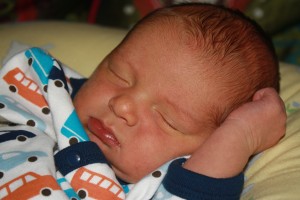 My brand new nephew, Hudson, was born Friday at 1:58 p.m.
He weighed in at 8 pounds, 3 ounces and is simply a doll (see picture at right for proof). The delivery room got pretty tense when my sister, Gena, was trying to bring him into this world. Her husband, friend Tammy and I were the only ones left in the room by this point. The waiting room was full of family and friends.
She was induced early that morning and by around noon she started pushing. Only problem was the epidural worked a little too well and she couldn't feel what she was doing in the netherregions. So the doctor told her he'd leave and do a tubal ligation and then zip back and see if she was ready then.
Except the doctor had an emergency and didn't make it back until Gena was realllly ready to push. Another doctor was called to catch the baby and when the new doc arrived, my sister could finally go for it.
And go for it. And go for it. That baby boy's head is quite large. I'd see his dark head appear, then disappear.
With each push I could feel my body pressing forward as if I could give her some extra momentum. And I kept holding  my breath through every contraction. I also prayed a lot. Finally (after my sister's episiotomy, which made me feel terribly faint) he slipped out and I started videotaping.
Gena has two older daughters, Avery, 9, and Adisyn, almost 5. Ladybug and her cousins got to skip school on Friday for the big event. Ladybug went back home Sunday night and I stayed to help my sister for a few extra days. I planned to head back yesterday, since it was Ladybug's birthday. BUT the weather kept that from happening, of course. It was really bizarre not to be with my baby girl on her birthday. She's officially 9 years old now. Only one more year to go before double digits. Yikes!
She handled my not being there quite well and is really looking forward to her birthday party on Saturday. She's having her first birthday sleepover. We had considered all kinds of birthday party ideas: gymnastics, art, camping. The third option, camping, sounded like fun, but was ruled out after Devil's Den said we had to book two nights. It was a fairly reasonable rate, but still.
We eventually agreed on a sleepover at home – instead of the wild, wild woods – because we decided to purchase a big birthday present. We've been promising her a new bed for about a year and the one she sleeps on now was given to her. So we haven't had to buy a bed since her crib days. The new bed has a loft bed at the top and a futon on the bottom.
Birthday parties can be so expensive, I'm glad I'm spending it on something tangible this year. Ladybug is totally pumped about her friends coming over to try out her new bed. We'll go out to eat at her favorite restaurant, come home and paint cupcake-shaped jewelry boxes, play games and watch Beverly Hills Chihuaha 2.
Happy birthday to Hudson — and Ladybug!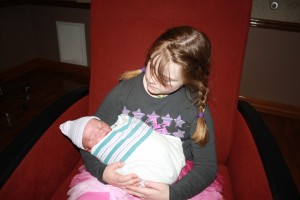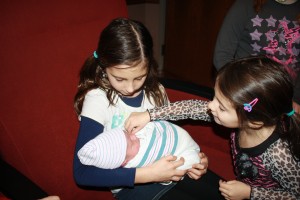 Extra note from "Aunt ShiShi": I'm super proud of my other nephew who won his county spelling bee yesterday!!!! I'll let you know how he does at state!