By Shannon Magsam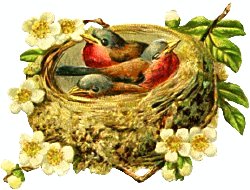 I spent last weekend nesting.
I know that's usually reserved for someone expecting a baby and I'm not. But my sister is. It's the only explanation I can come up with for all the time I spent ripping out closets, sorting through the garage wreckage and un-cluttering under beds. I'm a little nervous, so I'm keeping myself busy with nesting-like busy-ness.
I've been waiting for "the call" for a few days. Although my sister's husband will be standing at the head of the hospital bed, I'll be down at the business end offering encouragement and, eventually, calling out the hair color. So when I hear that my sister in labor – really in labor – I'll start the drive down to Conway to be a cheerleader for the birth of her third baby.
IF the weather cooperates, that is. These snow forecasts are making me really nervous that I won't be able to make it in time.
We've had a few false alarms with Baby-Watch 2011. The last one was Saturday night. Some really hard contractions started, my mom gave me a call and then … the volcanic eruptions stopped. It's not like my sister is new at this and actually she's basically one of those people who are in the throes of labor before actually admitting it out loud. So I really expected to be making the 2 ½ hour drive before the weekend was out.
But alas, here we are on Thursday. The baby isn't officially due until the end of the month, but Gena's two daughters were both early. We've decided this little boy is going to surprise us in every way he can. Starting, of course, with his conception 😉
The first time around, my sister and I were pregnant at the same time. Her first – and my only –are about six weeks apart. She went first, early, and I went two weeks post due date. I was big and pregnant the first time I helped in the delivery room with my niece, Avery. The nurses seemed a little concerned that they might end up delivering two babies if I was the excitable type. I surprised myself by being very calm and a pretty good second coach, if I do say so myself.
As she pushed those last few times, I do admit to thinking, "I really hope I can handle this when it's my turn." But I ended up with a c-section and my sister couldn't come with me in the operating room when Ladybug was born. There could only be one person present and my husband won that ticket.
My sister and I are three years apart. She's taller than me, so people often assume she's older. I love that. Well, now I do. Although we're very different, we're very close. Pregnancy and first-time motherhood sealed our bond and we are definitely each other's best friend now.
So you might say I've been sympathy nesting.
I've still got some closets to clean and I'll probably finish those by this weekend. I'm praying for a safe delivery and a healthy baby (I'd appreciate your prayers, too!). I can't wait to see his sweet little face. I know Gena is certainly ready, too.
For now I'll just keep cleaning and not making any plans unless I add: If my sister doesn't go into labor!

Shannon Magsam is mom to 8-year-old Ladybug, married to Ladybug's dad, John, and co-creator of nwaMotherlode.com. To read previously published installments of Life With Ladybug, click here. Leave a comment if you're so inclined. I'd love to hear your deep thoughts!