By Shannon Magsam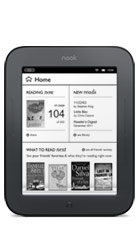 I have a confession.
I don't really like my Nook.
Can we still be friends?
I mean, I LIKE my Nook. The idea of it. In theory, I no longer have to pack a huge stack of books into my suitcase and pull around an extra 10 pounds at the airport (unless it's in belly fat and on my hips, yo). Instead, I can have all of my current main book squeezes all squished up, digital-like, in a slender little tablet.
Having a Nook should mean I don't have to lie awake at night worrying that the huge book sculpture on my bedside table will suddenly topple over and smother me in my sleep.
Truthfully, I like having my own leaning tower of word pisa right next to me in bed. (We don't have a tv in the bedroom, but my husband has to compete with the stack 'o books. Their titles beckon. All the time.)
Here's what I'm reading right now: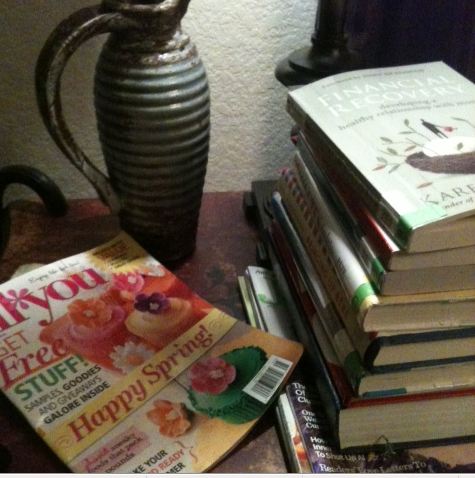 Wow! Those are some heavy books. I mean, topic-wise. The current bedside titles are:
Financial Recovery: Developing a Healthy Relationship with Money by Karen McCall
No Cheating, No Dying. I had a good marriage. Then I tried to make it better. By Elizabeth Weil
Taking People with You: The only way to make big things happen by David Novak
The Drama Years: Real Girls Talk about Surviving Middle School by Haley Kilpatrick
Bird by Bird: Some Instructions on Writing and Life by Anne Lamott
The 10 Habits of Happy Mothers by Meg Meeker, M.D.
The Bible 
Over the weekend, I added Then Came You by Jennifer Weiner. Because I needed a little fiction to balance out all that serious non-fiction.
But back to the Nook. I've had it for just over a year and I've used it about, say five times. I received it as a gift last year for Mother's Day. My daughter insisted that I needed – deserved – one, so my husband bought it. As Mother's Day got closer this year, I remembered the Nook and brought it out of hiding (from the basket under my bedside table). Then I faked reading it for a few days.
I think my biggest complaint is that I can't flip through the e-books easily. I (clearly) read lots of nonfiction and occasionally want to skip around to different chapters. I realize I can figure out how to do that on the Nook, but I don't have the energy to learn new technology right now. When I read, it's my peace, escape, joy.
I should probably take my Nook into B&N and ask the dude that mans the counter for a quick tutorial. Then, I'll walk around and feel all the actual books. And probably buy a few to add to my bedside art project.
Do you LOVE your Kindle/Nook/tablet? Talk me into loving mine, too!
Shannon Magsam is mom to 10-year-old Ladybug, married to Ladybug's dad, John, and co-creator of nwaMotherlode.com. To read previously published installments of Life With Ladybug, click here.