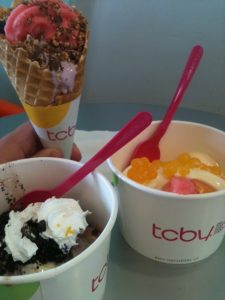 Gwen and I were asked to be "Froyoistas" for TCBY and they sent us some gift certificates to try out some of the new flavors, particularly the new Greek-style yogurt.
We were tasked with tasting the TCBY treats (a hard job, but …) and then sharing our honest opinions. Works for us.
My family was in Rogers over the weekend — and it was H.O.T. — so we decided to stop by the TCBY store near Pinnacle Promenade to see what was up.
After realizing that we didn't need to stand in line (tip: head straight over to the yogurt dispensers and add your fave yogurt(s) to a dish or waffle cone … then proceed to the toppings … then you can check out!), we went over to see what we had to choose from.
I started off with a waffle cone and added the following FroYo: Pink Lemonade Sorbet,

Greek blueberry yogurt

and Fruit Punch Sorbet. I topped my creation off with fresh blueberries (the fresh toppings all looked amazing) and mixed nuts. For my chocolate fix, I tossed a few crumbled Snicker bars on top of the whole mix.
John chose Pink Lemonade Sorbet and White Chocolate Mousse topped with orange and mango popping boba candies.
Ladybug went for the classic flavors, chocolate and vanilla, smothered in Oreos and whipped cream.
We were all too busy eating to talk much, but I did write down some of my impressions on a napkin. The fruit punch flavor definitely packed the most punch. It tasted, frankly, like summer. Very sweet and tart. I liked it, but it wasn't my favorite. Of course, I'm one of those weirdos who likes chocolate, but not candy.
The lemonade was pretty tame in comparison and was probably better for someone who doesn't crave crazy sweetness.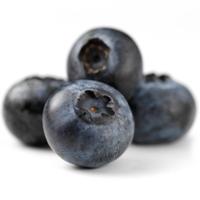 My favorite flavor of the three (on my cone) was the Greek blueberry. Have you noticed that Greek yogurt is one of the fastest growing trends in the grocery store dairy aisle? That stuff is everywhere. In my opinion, for good reason. With the extra protein, it keeps me filled up and it's a healthy snack.
Honey Vanilla was the first Greek flavor that TCBY stores had available in April. With only 110 calories, 0 grams of fat and 20 percent of daily requirements for both calcium and vitamin D, this yogurt has a thick, tangy texture. I liked that it wasn't too tart and had a "smooth" flavor. Topped with fresh blueberries, it was especially good.
We noticed that TCBY also had several flavors that are 98 percent fat free and are considered "Super Fro-Yo".
The TCBY higher-ups said Super Fro-Yo only contains 120 calories or less, at least seven types of probiotics, 20 percent DV of Vitamin D and calcium, a minimum of three grams of dietary fiber and four grams of protein, not to mention 10 percent DV of Vitamin A, one gram or less of saturated fat, and a minimum of 20 billion live and active cultures per serving at manufacturing. (Don't think too hard about the words 'live' and 'active' so you don't get skeeved out. These things are HEALTHY.)
Nothing like feeling healthy while you indulge. Love that.
Froyosita, over and out.