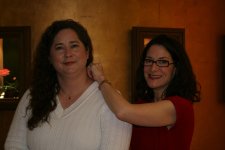 Can I just say that Rose Tolly was stoked when I told her about winning the Underwood's garnet pendant?
And by stoked, I mean she said tentatively, "Are you serious?" I laughed out loud and told her I was absolutely serious. That out of 550 votes, her lone vote had been plucked from the pile and was made victorious. We hadn't been able to reach Rose for a few days and I found out when she called that she'd been at the hospital with her father when I first sent her the good news via e-mail. Her dad was getting a stint put in his heart and there were some complications. I don't want to get all weird on ya'll, but I was glad to be delivering news to her about winning the heart-shaped pendant, especially since she needed a pick-me-up. I think it was just meant to be. (Her father is doing very well, don't worry.)
After I convinced Rose, a mother of two teenagers, that she really had won the necklace, she said, "I never win anything" and "I'm just so thrilled." She also admitted she'd almost kicked my "You've WON!" e-mail out of her inbox because she thought it might be spam.
When she went to pick up the necklace at Underwood's late last week, she was checking out the heart-shaped garnet earrings that go with it. "I have a wedding anniversary coming up," she said with a grin. Julia Johnson Garton, a certified gemologist appraiser and assistant manager at Underwood's, did the honors of putting the necklace on Rose (she's wearing the white sweater) and we both thanked them for the generous gift.
Gwen and I can't wait to see who wins the next Gold Mine Giveaway. Underwood's has agreed to supply another gold (or silver) goodie to the mama "gold mine," so you'll need to check back here often to make sure you don't miss entering your name for the next giveaway. I know that's something we can all get stoked about!