16 Thus says the LORD: "Stand in the ways and see, And ask for the old paths, where the good way is, And walk in it; Then you will find rest for your souls. But they said, 'We will not walk in it.'   Jeremiah 6:16 NKJV
By Bro. John L. Cash
Well, it's good to be back writing for you after my annual summer break. While I've been away, I've had so many people tell me how much they've enjoyed the new documentary movie about Mr. Rogers. I have a reputation of being a huge fan. (Click here and here and here to read some previously published columns I've written that include references to Mister Rogers.)  I haven't had a chance to watch the new movie yet. You see, life's a little unusual when you're the Country Preacher Dad. Living in a rural area (as I do), I'd have to travel more than an hour to get to a theater. I'm kind of just waiting until it comes out on Netflix or Redbox.
Although I'm looking forward to seeing the documentary, I'm really very content until it gets here. You see, I've been watching the original "Mr. Rogers' Neighborhood" episodes each day with my 16-month-old grandson, Landon. It's his favorite show and the highlight of our day together.
Some things we loved in our childhood don't weather all that well when we revisit them as adults. But I'm loving these daily visits with Fred Rogers as much as I did when I viewed them 50 years ago. In reality, I think I love them even more now. I'm just so thankful they are still around so today's children can love them, too. That's because we're raising our children and grandchildren in a world that needs Mr. Rogers so badly.
The other night, we were watching an episode of "Mister Roger's Neighborhood" together as a family. We heard the ever-present message that every person is valuable, lovable, and capable. We were aptly reminded that the best life is a life that is invested in loving and caring for others. Landon's father, my younger son, Seth, has spent his entire life being a man of few words. His response to Fred Rogers' message was a very profound statement: "It's really a shame we have strayed away from this with our children."
Doesn't that sentence say it all? Notice he didn't say that we had "grown" away from the message. (That would indicate progress.) Notice he used the word "strayed." Even as a young father, Seth realizes that, as a society, we have wandered off the good path, especially when it comes to the messages the world gives to our children.
May the Lord open our eyes to the values of the past, that by teaching and living them today we may make a better future.
(Note: Episodes of "Mr. Rogers' Neighborhood" are available on Netflix, Amazon Prime, PBS Kids, and at Archives.com.)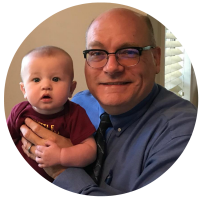 Dr. John L. Cash is the "Country Preacher Dad." He was raised in Stuttgart, Arkansas, and has spent the last 32 years being a country preacher in the piney woods five miles south of the little town of Hickory, Mississippi. He's a retired Mississippi public schoolteacher with grown sons, and he is now a stay-at-home-grandpa with his grandson, Landon Cash. He and his lovely wife, Susan, live in a brick house in town (where it's a beautiful day in the neighborhood.) You can send him a note at brotherjohn@ilovechurchcamp.com.