Don't you love peeking into other people's houses? And when they're all decorated for Christmas? Even better!
Today we're giving away 2 tickets to the 2013 Winter Dreams Tour of Homes, which is an annual Junior League of NWA fundraiser. Through great fundraisers like this, Touch a Truck and Moonlight Masquerade, the Junior League is able to help out organizations in our area who serve women and children. The winner will also receive an "Add Another Place Setting" cookbook which we both own and know for a fact is absolutely fabulous!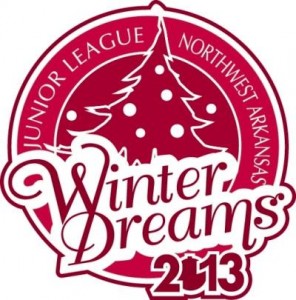 The tour is on Dec. 8 from 11 a.m. to 5 p.m.
If you don't want to take your chances with this giveaway, click here to purchase your Winter Dreams tickets online*. Tickets are only $20 for a whole day of fun — and Christmas inspiration! It's a great day for a group of girlfriends to hang out together.
Winter Dreams tickets include directions to each home from I-540. Homes will be located in both Benton and Washington counties.
HOW TO ENTER: If you'd love to win the two tour tickets and the Add Another Place Setting cookbook, click on the word "comment" below and tell us about something in your house that you would love to "show off" if folks came over for a little tour. It could be your favorite ornament, your signature Christmas tree, a Bible that belonged to your great-grandmother or a special dessert you make that is absolutely beautiful.
I have a 150-year-old armoire that I treasure. I would not be able to open it up, though, because it's filled with games, toys and my Pilates ball! Ha!
FOR MORE CHANCES TO WIN: If you'd love to win these tickets and want to do a little extra to help your chances, just tell your friends and family about the giveaway! When you email them, be sure to cc us so we'll be sure to give you credit. You'll get an extra chance for each person you tell. Email is giveaways@nwaMotherlode.com.
*If you would prefer to purchase your tickets in person you can visit one of these following locations:
Arvest on Joyce Street in Fayetteville
Arvest on Crossover in Fayetteville
Arvest Fayetteville Downtown
Arvest Rogers Village On The Creek
Signed Sealed Delivered in Rogers
Good luck in this giveaway, mamas! We'll let the winner know on Monday when everyone's back in the groove after Thanksgiving.