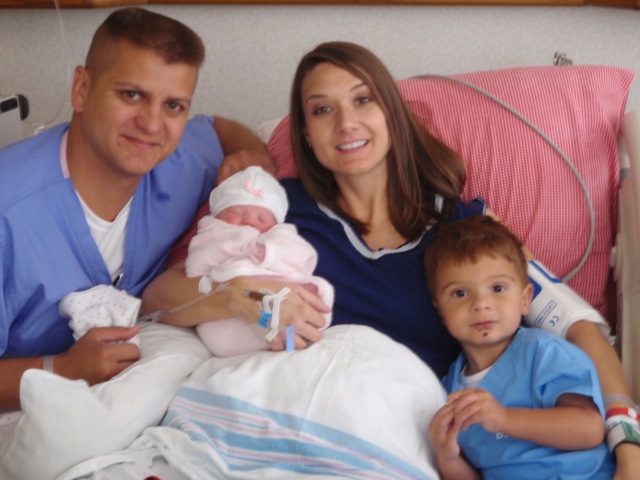 Dr. Matthew Steed, who writes great Healthy Mama articles here at Motherlode, is hosting a little get-together on Dec. 5 at 10 a.m. at Starbucks on Promenade Road in Rogers. (That's him in the picture above with his wife, Kimberly, right after the birth of their second child. Dr. Steed delivered their sweet daughter, Araceli.)
Dr. Steed, in Family Medicine and Obstetrics at Mercy Health and a father of two, wants to give you time to ask OB questions in a relaxed atmosphere. This event is perfect for Northwest Arkansas women who are pregnant or hope to be pregnant in the near future.
This meetup is part of Mercy Health's "Coffee with a Doc" series of events. Dr. Steed expects to attend these coffees approximately once a month for moms or soon-to-be moms.
If you'd like to get to know Dr. Steed a little better before you attend the Dec. 5th meetup at Starbucks, here are a few posts he's written for us:

Healthy Mama: What to expect on Delivery Day
Healthy Mama: On identifying that scary newborn rash
Healthy Mama: What pregnant women need to know about the flu shot
Healthy Mama: When new moms have the blues
If you'd rather connect with Dr. Steed as a one-on-one patient, you can reach him at the Mercy clinic at 479-338-5555. His office is located in the Mercy Physician's Plaza just off 540 in Rogers.