Mamas, we know how very NOT normal this year has been. One of the things we've missed most is the chance to get out of the house and do something — anything — that makes us feel hopeful that fun outings will once again be part of our lives.
So we're thrilled to see that our friends at the Walmart AMP have figured out a way to hold an outdoor event — with safety precautions in place — that will give us a much-needed dose of fun.
From September 11, 2020 until October 9, 2020, the Walmart AMP will be hosting weekly Happy Hour events which feature signature cocktails, specialty food, games like cornhole, and free live music from various bands in our region. Sounds fun, right? And don't worry because safety precautions WILL be in place and the event will be held outside, which reduces risk of exposure.
The Walmart AMP now has a brand new outdoor space to use for these Happy Hour events. Remember all the construction going on at the AMP last year and earlier this year? Now it's finished, and it's called the "Choctaw Plaza."
While you're enjoying the new plaza, you'll have access to specialty food items, signature cocktails, cornhole games, and free live music on selected nights. (Just bring a credit or debit card because the cocktails and food menu will be available for cashless purchase, which reduces risk.)
Proceeds from the purchase of drinks and food go to support the Ghost Light Recovery Fund, which will help Walton Arts Center offset lost revenue from canceled performances, continue education and intermission programming, maintain facilities and support staff until full-scale performances can resume.
Some of the best local and regional bands will perform from 6-8 pm during Happy Hour nights.
Dates and scheduled performers for Happy Hour include:
The Mixtapes on Friday, Sept. 11
Goose on Saturday, Sept. 12
Jukeboxx on Thursday, Sept. 17
The Juice on Friday, Sept. 18
Irie Lions on Saturday, Sept. 19*
Boom Kinetic on Thursday, Sept. 24
Arkansauce on Friday, Sept. 25
Uncrowned Kings on Friday, Oct. 2
The Rosy Hips on Saturday, Oct. 3*
Dial Up on Friday, Oct. 9
"These are really popular bands who are performing for a discounted fee in order to support Walton Arts Center's Ghost Light Recovery Fund. It gives them a fun gig to play, patrons a safe night out, allows us to showcase the expanded facility and it all supports the relief fund for Walton Arts Center," said Brian Crowne, vice president of the Walmart AMP.
Entrance is free but capacity is limited, and tables are available on a first-come, first-served basis. A limited number of tables can be reserved in advance for $25 by calling 479.443.5600 or visiting www.amptickets.com.
Table reservations open on Monday for that week's happy hours and close 48 hours prior to each event. Due to the Labor Day holiday, reservations for the Sept 11 and 12 events will open today, Tuesday, Sept 8.
The Walmart AMP has implemented additional health and safety precautions to protect patrons and staff from the spread of COVID-19. These precautions have been approved by the Arkansas Department of Health. For a complete list of health and safety protocols and for additional bands and dates as they are confirmed, please visit www.amptickets.com.
THIS WEEK'S GIVEAWAY!
Mamas, this week we're giving away TWO TABLE RESERVATIONS for the Happy Hour Event scheduled for September 18, 2020, when a band named "The Juice" will be providing live music.
These table reservations means the winner can bring 3 people with her to Happy Hour. (Perfect for either a couples' date or a Moms' Night Out event.)
ABOUT THE BAND:
The Juice is a high-energy, crowd moving, audible fun machine that covers music from 70's funk and classic rock to 90's hip hop and modern pop.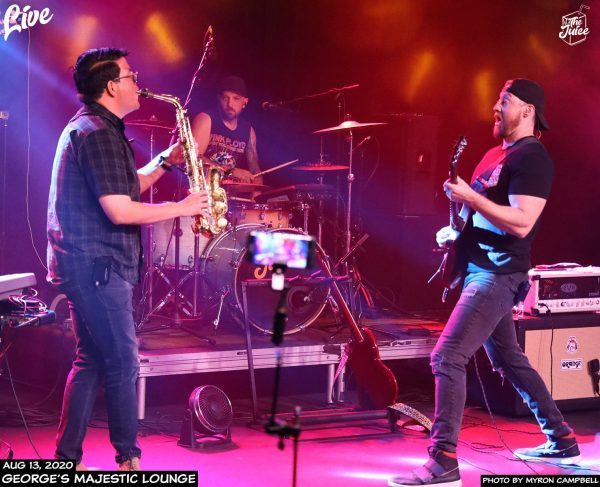 For an audio taste of what they do, check out this fun clip from their YouTube channel where they cover a medley of Stevie Wonder's "Superstition," the theme song from "The Fresh Prince of Bel Air," and "Walk About" by Red Hot Chili Peppers.
HOW TO ENTER:
If you'd love to win these two table reservations for the Happy Hour event on September 18, 2020 (with music from "The Juice"),  scroll down to the bottom of the post and past the comments posted by other local moms until you see the words "Leave a Reply." Then write a quick comment telling us why you could REALLY use a Happy Hour this month.
You can also email your answer to us at giveaways@nwaMotherlode.com.
STAY CONNECTED:
Our newsletter subscribers get access to good stuff, including exclusive giveaways (like this one), information about local events, local mom interviews, recipes and more.
The nwaMotherlode newsletter is delivered straight to your inbox so you don't miss anything awesome (like this chance to win tickets!) CLICK HERE to sign up. We won't fill your inbox with info, no worries. We only send out newsletters when there's something in it for you — and we know you'll be interested in hearing about it.
We'll draw the winner at random on Friday! CLICK HERE for more information about upcoming Happy Hour events. You can also call 479-443-5600 to purchase table reservations for Happy Hour events.