Ready for another fun local giveaway that gets you out of the house to do something fun? Good. We've got one for ya.
From now until October 9, 2020, the Walmart AMP will be hosting weekly Happy Hour events which feature signature cocktails, specialty food, games like cornhole, and free live music from various bands in our region. Sounds fun, right? And don't worry because safety precautions WILL be in place and the event will be held outside, which reduces risk of exposure.
The Walmart AMP now has a brand new outdoor space to use for these Happy Hour events. Remember all the construction going on at the AMP last year and earlier this year? Now it's finished, and it's called the "Choctaw Plaza."
While you're enjoying the new plaza, you'll have access to specialty food items, signature cocktails, cornhole games, and free live music on selected nights. (Just bring a credit or debit card because the cocktails and food menu will be available for cashless purchase, which reduces risk.)
Proceeds from the purchase of drinks and food go to support the Ghost Light Recovery Fund, which will help Walton Arts Center offset lost revenue from canceled performances, continue education and intermission programming, maintain facilities and support staff until full-scale performances can resume.
Some of the best local and regional bands will perform from 6-8 pm during Happy Hour nights.
Remaining dates and scheduled performers for Happy Hour include:
Jukeboxx on Thursday, Sept. 17
The Juice on Friday, Sept. 18
Irie Lions on Saturday, Sept. 19*
Boom Kinetic on Thursday, Sept. 24
Arkansauce on Friday, Sept. 25
Uncrowned Kings on Friday, Oct. 2
The Rosy Hips on Saturday, Oct. 3*
Dial Up on Friday, Oct. 9
Entrance is free but capacity is limited, and tables are available on a first-come, first-served basis. A limited number of tables can be reserved in advance for $25 by calling 479.443.5600 or visiting www.amptickets.com.
Table reservations open on Monday for that week's happy hours and close 48 hours prior to each event.
The Walmart AMP has implemented additional health and safety precautions to protect patrons and staff from the spread of COVID-19. These precautions have been approved by the Arkansas Department of Health. For a complete list of health and safety protocols and for additional bands and dates as they are confirmed, please visit www.amptickets.com.
THIS WEEK'S GIVEAWAY!
Mamas, this week we're giving away TWO TABLE RESERVATIONS for the Happy Hour Event scheduled for Friday, September 24, 2020, when a band named "Boom Kinetic" will be providing live music.
These table reservations means the winner can bring 3 people with her to Happy Hour. (Perfect for either a couples' date or a Moms' Night Out event.)
ABOUT THE BAND:
Boom Kinetic performs high-energy alternative pop music in cities including Memphis, Kansas City, St. Louis, Tulsa, Oklahoma City, Dallas, New Orleans, and plenty of places in between. A music review from Round Magazine called Boom Kinetic "a great indie pop band with modern production but with roots in the 80s, creating infectious tunes that span the generations." The Arkansas Traveler magazine also had high praise for the band, saying "…it is hard not to dance when one of their songs comes on."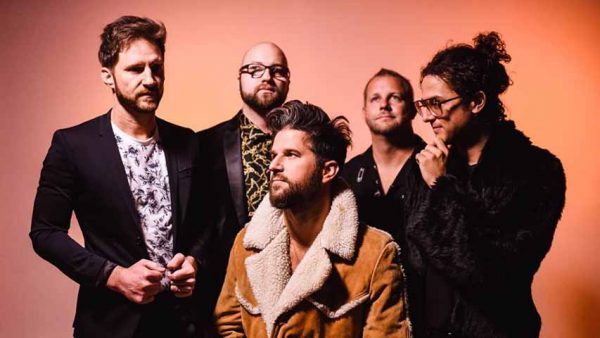 For a quick taste of this band's music, check out this video from March when they did a Facebook live video concert from home during the early days of the pandemic when we were all going into withdrawal from the lack of live music.
HOW TO ENTER:
If you'd love to win these two table reservations for the Happy Hour event on September 24, 2020 (with music from "Boom Kinetic"),  scroll down to the bottom of the post and past the comments posted by other local moms until you see the words "Leave a Reply." Then write a quick comment telling us what you're most looking forward to doing after the pandemic passes and life gets back to normal. (Big family reunion? Huge concert? Hugging your friends?) 
You can also email your answer to us at giveaways@nwaMotherlode.com.
STAY CONNECTED:
Our newsletter subscribers get access to good stuff, including exclusive giveaways, information about local events, local mom interviews, recipes and more.
The nwaMotherlode newsletter is delivered straight to your inbox so you don't miss anything awesome (like this chance to win tickets!) CLICK HERE to sign up. We won't fill your inbox with info, no worries. We only send out newsletters when there's something in it for you — and we know you'll be interested in hearing about it.
We'll draw the winner at random on Friday! CLICK HERE for more information about upcoming Happy Hour events. You can also call 479-443-5600 to purchase table reservations for Happy Hour events.