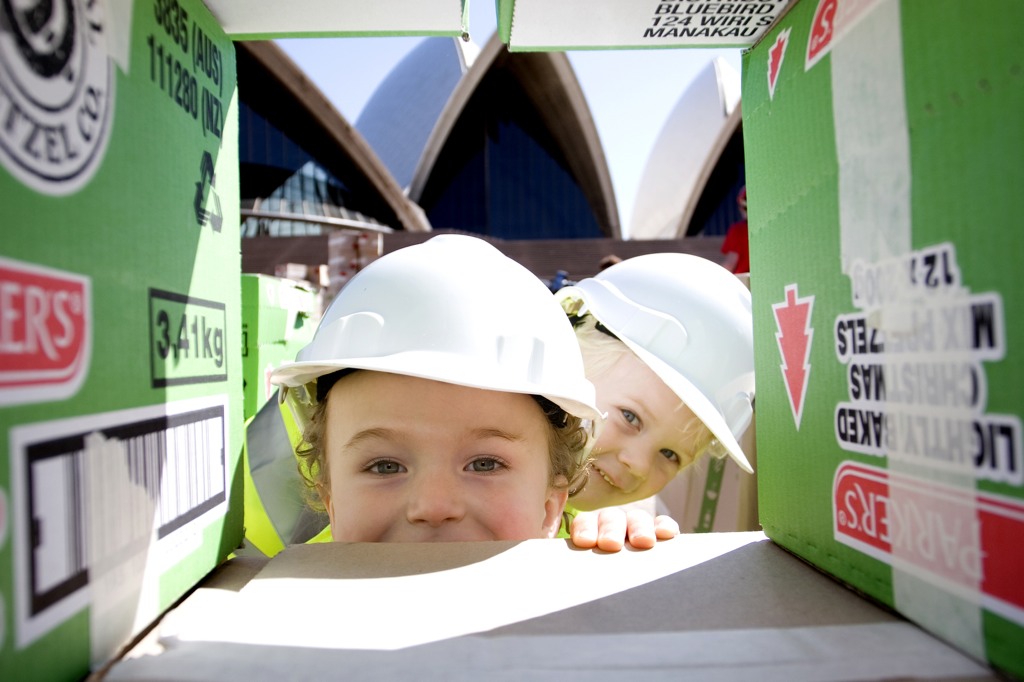 We love, love, love the idea behind the Walton Arts Center event called "We Built This City" which will take place during two separate event times on Saturday May 19th. It's genius. All mamas know that video games and fancy electronic toys are all fine and good… but NOTHING beats a good old-fashioned cardboard box. Kids throughout the ages have loved empty boxes and have used their imaginations to turn them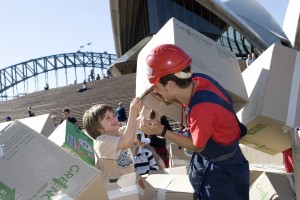 into all kinds of wonderful things — a secret fort, a tunnel, a magical castle, or a spaceship.
We Built This City is an interactive play space for families which celebrates simplicity and the power of children's imaginations. A giant public construction site, We Built This City uses thousands and thousands of cardboard boxes and the energy and the ingenuity of kids and families to build a magnificent imagined city on the Walton Arts Center stage in one day.
And here's the part your kids are really gonna love: When the cardboard city is complete, the kids get to knock it down and trample it into a big pile of rubble. Can you say "FUN"?
Tickets for this family event are $5 each for kids and adults get in FREE to watch or help build.
Please note: There are two event times for this show: 11 a.m. on May 19th or 3 p.m. on May 19th. Although the kids have two hours to build with boxes on the Walton Arts Center stage, you do NOT have to stay the entire two hours and you're free to come and go anytime during the two-hour event. Fun and flexible — we love that.
We will pick two winners for this giveaway on WEDNESDAY, MAY 16TH at 5 p.m., so be sure to throw your name in the drawing before that time.
HOW TO WIN TICKETS: Thanks to our friends at Walton Arts Center, we've got tickets to give away to TWO of the moms reading this post. Each of the winners will get FOUR tickets to the event. To throw your name into our online cardboard box, just click the orange comment button below and tell us what your kids like to do with empty boxes. (My son recently built a cardboard race car out of a giant box. It got great gas mileage.)
You can also enter this giveaway via email by sending your answer to giveaways@nwaMotherlode.com.
SPREAD THE WORD; INCREASE YOUR ODDS: As always, we give extra chances to win to anyone who helps us spread the word about our fun giveaways. Just send an email to your friends/family about this event and be sure to put giveaways@nwaMotherlode.com on the CC line of your note. We'll give you an extra chance to win for each person you tell.
FOR MORE INFO: To get more info on this event and on all of the events lined up in the Artosphere series presented by Walton Arts Center, click HERE. You can also get more details by calling the Walton Arts Center box office at 479-443-5600. Purchase tickets online by clicking HERE.


PS: Here's a little video promo of the show we found on YouTube. Looks like so much fun.