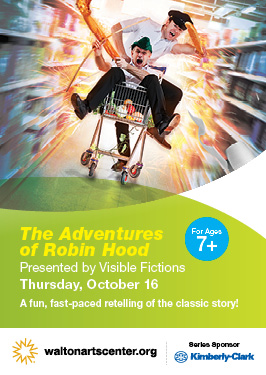 If you didn't win — or get a chance to throw your name in the hat — for the Home Free Vocal Band last week, we've got another giveaway starting today!
We've got FOUR tickets to see The Adventures of Robin Hood on Oct. 16th at Walton Arts Center. Since you'll have 4 tix, you can go with another couple or take the kids (this show is recommended for ages 7 and up).
ABOUT THE SHOW: Somewhere near you there is a band of brothers fighting for justice, seeking to rid the land of evil and return hope to the poorly treated. They are lean, mean, trained justice-seeking machines!
Armed with whatever comes their way, nothing is as it seems in this Sherwood Forest. But one thing is for sure…no rogue is safe!
Join the internationally acclaimed Visible Fictions cast for a silly and unexpected take on this classic story. This presentation for youth and adults is an equally memorable and powerful experience, mixing things up and turning the story of Robin Hood on its head. Prepare to unleash your imagination!
(Content considered suitable for children ages 7 and up.)
HOW TO ENTER: If you'd like to see this FUN, SILLY show for free, click on the words 'comment' below and tell us about something that made you laugh out loud recently. This just happened to me: I was in one of those creepy Halloween stores a few days ago and suddenly a large (automated) spider jumped out at me. I screamed first, then laughed loudly enough that the whole store probably heard me! Your turn!
INCREASE YOUR ODDS OF WINNING: If you'd like to increase your odds of winning a night out on the town, share! Email friends and family about the giveaway and CC us so we'll be sure to give you credit. We'll give you an extra chance to win for each person you tell. The email is giveaways@nwaMotherlode.com.
(You can also earn an extra chance to win by signing up to receive the free email newsletter we send once a week. The sign-up box is at the top right of this page.)
BE SOCIAL: You can also earn extra chances to win by commenting on our Facebook page, following us on Twitter or following us on Pinterest. If you do any of those, just mention it in your comment or email so we can give you proper credit.
Good luck, mamas!