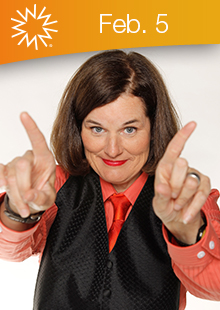 Are you ready to LOL?
Well, Paula Poundstone is sure to deliver some belly laughs at her show on February 5th at Walton Arts Center. We've got two tickets to give away to the show PLUS dinner at U.S. Pizza! Date night!!!
ABOUT THE SHOW: 25 years ago, Paula Poundstone climbed on a Greyhound bus and traveled across the country – stopping in at open mic nights at comedy clubs as she went. She has since become one of the greatest humorists of our time, praised as a legend among comics and audiences alike.
Widely known as a regular panelist on NPR's popular weekly news quiz show, "Wait Wait…Don't Tell Me," her list of awards and accolades prove that she not only shot through the glass ceiling, she never even acknowledged that it was there.
The San Fransisco Chronicle says she's "at the top of her game…" and the Boston Globe raves she's "never been funnier…" Here for one night only, the always-hilarious Poundstone visits WAC with her distinctive brand of wry, intelligent and witty comedy to deliver insightful, spontaneous humor as she never has before!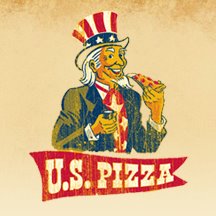 ABOUT THE FOOD: Well, we absolutely love U.S. Pizza. It's NWA tradition! The pizza's great and they also have delicious salads, sandwiches and Sunday brunch!
It's a fun environment and they have their own parking on Dickson Street!
HOW TO ENTER: To throw your name in the online hat to win the Paula Poundstone tickets, click on the words "post a comment" below and tell us the last thing that made you laugh out loud! Was it something your kids said or did? A co-worker's quip? Maybe it was a YouTube video that made you spit your Dr. Pepper onto the computer screen? We can't wait to hear all about it and LOL, too!
You can also email your answer to us at giveaways@nwaMotherlode.com.
INCREASE YOUR ODDS OF WINNING: Help us spread the word about this giveaway by emailing your friends and family about the giveaway. We'll give you an extra chance to win for every person you tell. Just be sure to put giveaways@nwaMotherlode.com on the CC line of your note so we can give you proper credit.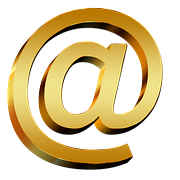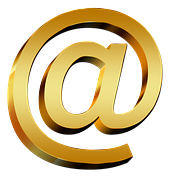 You can also earn an extra chance to win by signing up to receive the free email newsletter we send once a week.
Our newsletter subscribers get access to the good stuff, including exclusive giveaways (like this one), information about local events, local mom interviews, recipes and more. It's delivered straight to your inbox so you don't miss anything awesome. CLICK HERE to sign up. We won't fill your inbox with info, no worries. We only send out newsletters when there's something in it for you — and we know you'll be interested in hearing about it.
BE SOCIAL: You can also earn extra chances to win by commenting on our Facebook page, following us on Twitter or following us on Pinterest. If you do any of those, just mention it in your comment or email so we can give you proper credit.
If you don't want to take a chance and prefer to buy tickets now, CLICK HERE. We'll choose a winner on Friday afternoon, mamas! Good luck!