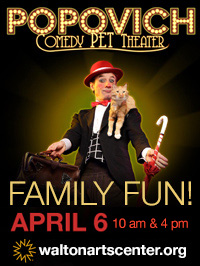 Note from the mamas: Congratulations to Laura Wakefield, winner of the Popovich tickets! Have a great time, Wakefield family!
Do you think your kids would love a show that involves a juggling comic who's assisted by 15 house cats, 10 dogs, four geese, eight white doves, and two parrots?
We thought so! We've got FOUR tickets to give away to this awesome show, Popovich Comedy Pet Theater.
Popovich will be at Walton Arts Center on Saturday, April 6, at 10 a.m.
ABOUT THE SHOW: The World Famous Popovich Comedy Pet Theater is a favorite across the U.S., performing a family-oriented blend of the unique comedy and juggling skills of Gregory Popovich, and the extraordinary feats of his amazing pets.
Popovich and his pets have made the rounds on "The Tonight Show with Jay Leno," "Late Night with David Letterman," and NBC's "America's Got Talent".
It's an extravaganza of European-style clowning, amazing juggling and balancing acts, and of course, very talented performing pets.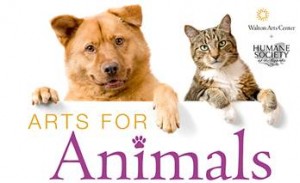 HOW BUYING A TICKET CAN HELP ANIMALS: Walton Arts Center has partnered with the Humane Society of the Ozarks for the first-ever, "Arts for Animals" program designed to raise money and educate the community about services for the humane treatment of animals.
But there's only a week left! Through the end of March, when you purchase a ticket to any of Walton Arts Center's five animal-themed performances, Walton Arts Center will donate $1 to the Humane Society of the Ozarks.
All "Arts for Animals" performances include:
Popovich Pet Comedy Theater – two performances, April 6, $16-28
Jack Hanna's Into the Wild Live! Part of Artosphere, one performance May 3, $18-28
We're Going on a Bear Hunt, Part of Artosphere, one performance May 12, $5
War Horse, seven performances, May 22-26, $49-73
Scooby-Doo Live! three performances, May 28-29, $19-76
To order tickets to these and other performances, call 479.443.5600 or visit the website and use the code GERBIL.
HOW TO ENTER TO WIN POPOVICH TICKETS: To throw your name in the online hat for the tickets, click the orange comment button below and tell us about a trick your own talented pet can do (or a pet you had as a kid). Does your cat turn on the water by himself? Can your dog jump through a hoop? Does your bird say hilarious things when you have company over? You can also email your answer to giveaways@nwaMotherlode.com.
HOW TO INCREASE YOUR ODDS: Help us spread the word about the giveaway and we'll give you extra chances to win. Send an email to your friends about the giveaway and be sure to put giveaways@nwaMotherlode.com on the CC line of your note. We'll give you an extra chance to win for every person you tell.
BE SOCIAL FOR MORE CHANCES TO WIN: Spread the word via social media and we'll give you extra chances as well. Just share the giveaway with your friends on Facebook or share about the giveaway on Twitter to increase your odds of winning. If you do either of these things, just let us know in your posted comment or send us an email so we can give you proper credit.
We'll choose a winner for the show tickets on Friday, so be sure to put your name in the hat asap. Winners are always chosen at RANDOM.
To guarantee your tickets, buy them online by clicking HERE or call the Walton Arts Center Box Office at 479-443-5600.