Edited to add: We'll select a winner at random today, Tuesday, April 21. Good luck!
Did you know that laughing burns calories? It's true. It really does. So… for our next Great Date Giveaway, we thought it would be kinda fun to send a lucky mama and her sweetie to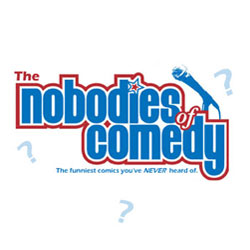 a great dinner at Bordinos, followed by an evening with some really funny stand-up comedians so you can literally "laugh your butt off." (Okay, you probably won't laugh your whole butt off, but you know what we mean.)
We're offering a free dinner at Bordinos and two tickets to a show called The Nobodies of Comedy at the Walton Arts Center on April 25th. It's a night of incredible food and incredible comedy starring the funniest comics you've never heard of.
But don't let the name of the show fool you. These comics have definitely paid their dues, working in every major club in the country and performing on shows like The Tonight Show and Comedy Central. They may not be household names just yet, but they are hip, young and hilarious.
As for Bordinos, what can we say? It's fabulous. But don't take our word for it. Just ask the most recent lucky mama that won our Great Date Giveaway last month. Her name is Tricia Harbaugh, and that's a picture of her and her hubby on the right. Cute couple, huh? They celebrated their anniversary at Bordinos during their Great Date evening, and here's what Tricia said about the experience:
"Hooray for nwaMotherlode! We had the best time! Bordinos is a fantastic restaurant… I can't believe we'd never been there before. The food was wonderful, and the service was incredible. Since it was our anniversary, they invited us back after the show for coffee and dessert, on them! Wow! …Altogether, it was just a perfect evening. Thanks for the Great Date!"
Let's face it, girls. If you tell your husband that you are taking him out for a wonderful free dinner followed by free tickets to see funny comedians, you are going to earn some

MAJOR "cool wife" points. And you're going to enjoy the evening as much as he does.
How to enter: In the spirit of the show, we're asking you to throw your name in hat by clicking the comment button on the lower right corner of this post (or sending us an e-mail) and tell us something funny that happened to you recently. It might be something funny your kid or husband or dog did. Or… if you're having "one of those days" and you're all out of funny, then just tell us you desperately need a night out and a few laughs, and we'll put your name in the hat.
How to increase your chances: As always, you can increase your odds of winning the Great Date by helping up spread the word to your friends. Just send them an e-mail about the website and/or the giveaway, and be sure to put mamas@nwaMotherlode.com in the CC line so we can give you proper credit. You'll get an additional chance to win for every friend you tell.
So get busy posting your funny comments or sending us your e-mails. We'll select a winner AT RANDOM on Tuesday the 21st. Good luck!