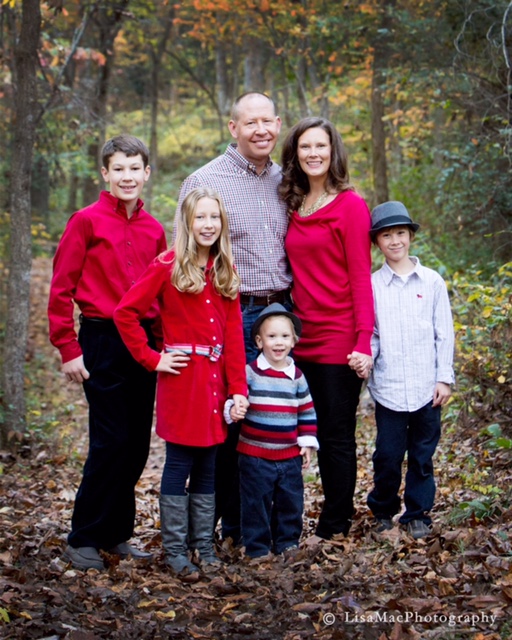 Name: Andria Sisson Bittle
How many children do you have?
I have been honored to raise four beautiful children. Right now their ages are 13, 11, 7, and 3.
Where are you from and how long have you lived in NWA?
I grew up in Hope, AR. I went to college in Searcy, then spent some time in Little Rock, Ft. Smith, and moved to Fayetteville almost 11 years ago.
What brought you here?
My husband's job took us to Ft. Smith for seven years. After some time with his company, we had the liberty to move to Fayetteville. We absolutely loved the area and have not regretted the decision to move.
What are your family's favorite things to do in the area?
Northwest Arkansas is like a breath of fresh air! Our family enjoys camping, canoeing, and hiking. However, we spend most of our time at the soccer fields watching our 11-year-old daughter play with Comets and at the shooting range watching our 13-year-old son compete. We also have enjoyed many wonderful trips to Silver Dollar City and Big Cedar Lodge.
Tell us about a typical day in your homeschooling mom life:
The funny thing about Homeschool is there really is no "typical" day.
I will do my best to give you an idea of the schedule for which we strive. Most mornings my husband and I rise early and spend time together exercising and having breakfast before the kids wake. Once the children are up and going, they have breakfast and complete their morning chores.
After chores, we get Math done right away (of course, because Math is the most fun!). All of the children have independent workbooks they are going through. After they are all finished with their workbooks, we join together at the school table for Bible, Geography, and Science.
After lunch, the kids finish up any work they have left from the morning assignments, go through a Spanish lesson with Rosetta Stone, read, and complete their afternoon chores. By this time, I am preparing dinner (we eat early) and getting all the kids ready for whichever activity/practice they will be involved with for the evening.
Writing the schedule out gives the impression that homeschool is tidied up in a neat little bow. However, each family has its own challenges and ours is no different. We meet those challenges with the understanding that we are all still growing, changing, and working on our character (mom and dad included)!
What's something your friends might not know about you?
I really feel I am an open book to the people I meet-especially my close friends. So, I am not really sure what they don't know about me. One comical thing that came to mind, is that I really enjoy rap music! I grew up listening to rap and country. As an adult, I choose not to seek out rap as it can contain lyrics I would not want my children to hear. However, there are a few Christian rappers I have discovered, and when I need a "pep-me-up" I find rap works!
What was the last song you sang along to?
I like to walk while listening to music. Sometimes I find myself singing along. On my most recent walk I was singing with Rachel Platten "Fight Song".
What's your favorite Fall tradition?
I enjoy decorating my house for Fall. I am NOT gifted at decorating, however, I am capable of setting out a few pumpkins and faux fall leaves. With the colors in my house, fall fits right in. We also enjoy taking the kids to the Harvest Festival at Silver Dollar City, and have had a blast at the "Right Choice Corn Maze" in MO.
If you could vacation anywhere in the world this winter where would it be?
This winter, I would love to take a trip to Big Cedar Lodge. We typically visit the lodge in the summer, but I understand it's just as beautiful in winter. I don't intend for my answer to seem short sighted. My husband and I have had the privilege to travel quite a bit. However, I seem to enjoy the short family vacations close to home much more than jaunts to Italy, Canada, Hawaii, or Mexico.
We love where we live! Taking some time to enjoy the beauty locally actually feels like a vacation.
What's the most enjoyable thing about being a mother? The most difficult?
The most enjoyable and difficult thing about being a mother are the same. I have delighted in my children's different personalities. It is amazing to me to see them turn into the people God created them to be.
The longer I am a parent the more I am convinced we are only to guide what God has already placed in the little ones he has sent to us.
On the flip side, it is my greatest challenge to be the best parent I can be to the differing needs of the children. A disciplinary method may work for one child, while not all for the next in line. I would say this is the area I feel least equipped, but am learning as I go.
What's something you have always wanted to learn?
I have always wanted to learn to play the piano. Growing up I had a few people in my life tell me I had "piano fingers". It has always been my desire to learn to play.  Maybe one day…
How do you recharge at the end of the day?
At the end of my day, I usually unwind by checking out houses on Zillow. My husband and I have looked at houses and land for almost two years. In that quest, I find it relaxing and helpful to take a look at what is on the market. However, there is very little time during the day to do that. So, nighttime it is!
One word to sum me up:
I guess one word to some me up is … reliable.
Photo credit: Lisa Mac Photography