Jacquelyn Wiersma-Mosley is a University of Arkansas professor who teaches her students — and her two sons — all about cultural competence and emotional intelligence. So embrace your inner happies, or your grumpies, and enjoy this interview with Jackie:
Kids' names and ages: Reed (6) and Bennie (4)
What brought you to NWA?
I moved here in 2010 to teach at the University of Arkansas.
Tell us about your role at the U of A:
I am a Professor of Human Development and Family Sciences in Bumpers College; I teach courses on Multicultural Families and Cultural Competence, and I am a diversity, equity, and inclusion champion for initiatives in my department, college, university, and the Division of Agriculture. I love my job!
What would your "perfect NWA day" look like? (Where would you go, eat, do?) Our perfect day is my husband cooking breakfast for us, and then going for a hike at either a Nature Trail in Fayetteville or Devils Den, and then grabbing El Matador Mexican for dinner, which is our favorite.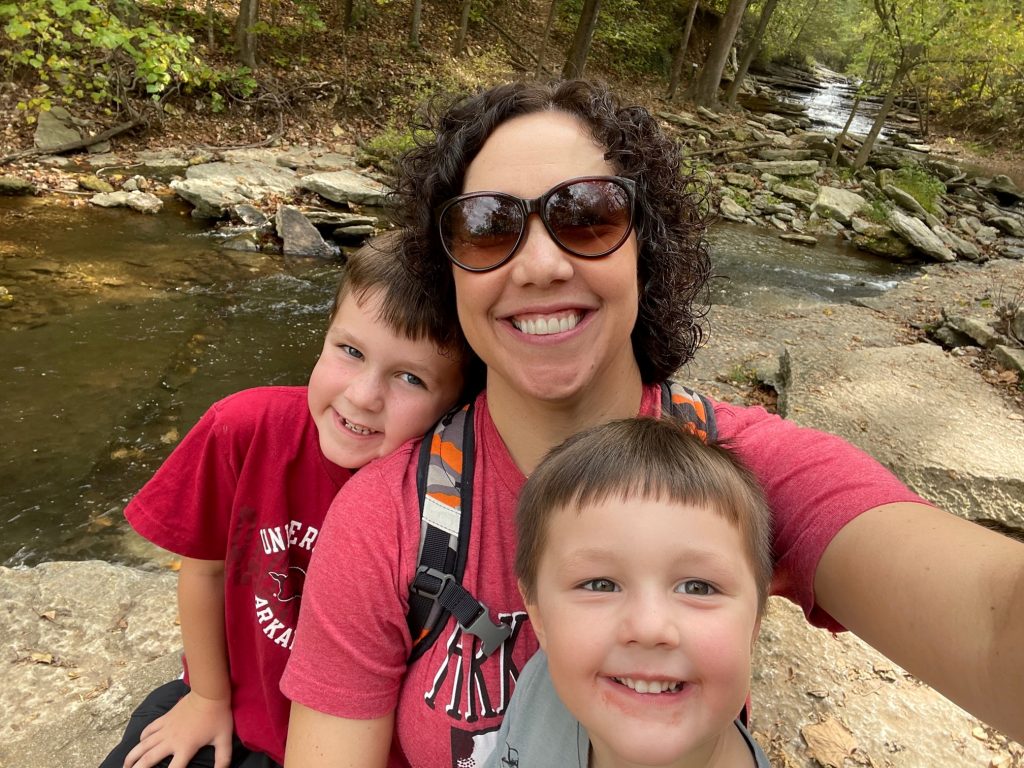 What did you want to "be" when you grew up?  I always wanted to study people and figure out why they do things or behave certain ways, and I get to do that every day! 😊
Name 3 things you have with you at all times:  Cell phone, chapstick, and snacks for my boys (and me!)
What's something funny your sons did recently to make you laugh?  Oh they are goofy characters, and I love all of their creativity when they play various roles such as sword fighting, wrestling, or pretending to be transformers, but recently my son Bennie (4) told me his "grumpies are coming out"! Both boys are emotionally intelligent and I always encourage them to feel their emotions, even grumpy ones. 😊
What's a piece of advice about parenting that you loved so much you passed it along to others (or still live by it)? I think about this quote all the time when teaching my boys to become culturally competent human beings: "I've learned that people will forget what you said, people will forget what you did, but people will never forget how you made them feel." ― Maya Angelou
If you could vacation anywhere in the world this summer, where would it be? Always Hawaii, that will never change, we love the beach, but I need some assistance paying for that!
What's something your friends might not know about you? I'm obsessed with Astrology/Zodiacs, as another means of "studying people" and oddly, I can always remember people's birthday's, but have the hardest time remembering names! My favorite subject to talk about is astrology, I'm a little obsessed and even wrote a book in my spare time to explain what it really is to people and how useful it can be in understanding all types of relationships!
What's something you'd love to learn?  #1 on my bucket list is learning to speak another language, specifically Spanish, and I have tried various things (and failed), but I will encourage my boys' to take Spanish courses and then they can tutor me!
Who do you most admire? Why? My mom. She raised me as a single mom, working long hours; she started as a secretary at her company and retired as a manager of a large group, and I admire her determination, loyalty, and work ethic; I think she passed that down to me and I am forever grateful for her role modeling, as well as her love and support.
How do you unwind at the end of night? I love snuggling in bed with my boys and watching some type of Avengers, Star Wars, or Dinosaur movie, reading with them, and then lights out at 8 pm (yeah, I love sleeping!).
One word to sum me up: Aquarius/Pisces 😊