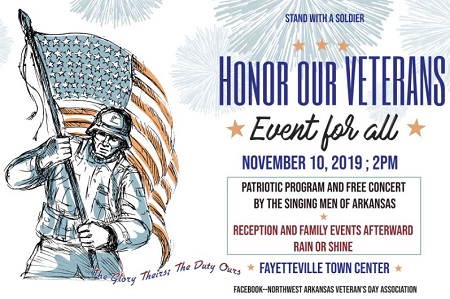 We became acquainted with Krystal Osbon when she shared an event with us called Stand with a Soldier Veterans community event happening at the Fayetteville Town Center on Sunday, Nov 10, at 2 p.m.
There will be military and rescue vehicles, children's activities, and a reception following a patriotic concert.
Krystal single-handedly started a Veteran's Day Parade in Fayetteville 10 years ago so her kids would have something to attend to help them appreciate their veterans. She has two brothers and a brother-in-law in the military. Then it got bigger.
Enjoy this interview with her, including details on how the parade came to be:
Kids' names and ages: Trey (15), Justus (12), Liberty (11), and Trenton (8)
Tell us about how you started the Veteran's Day Parade:
Bless my heart I had good intentions, but no experience and only with a lot of caring helpers was it a success. After that first year, I was asked to help a couple of experienced Veterans to continue providing Veterans events for the community and the three of us did it together for the next 9 years.
The President and go-getter of our organization developed cancer due to military service and was passing away when he asked me to do one last event with him. In the middle of planning, he ended up taking a turn for the worse and wasn't able to see this event through.  I promised him I'd make it happen, so I'd love for the community to come out and show their support for the Steve Gray family and all our Veterans.
Where are you from and what brought you to NWA? 
My parents are from Lubbock, TX.  They moved here when I was 18 months old.  I went to JBU in Siloam, so NWA has and will always be home.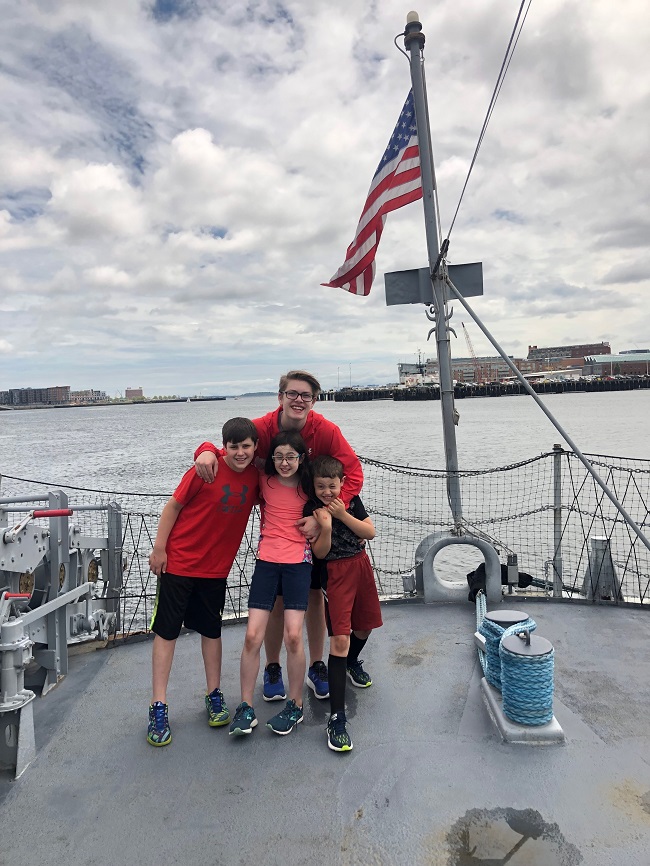 What's the funniest thing that happened to you as a mom most recently?
Funniest and scariest is a combo that happened just last week. So I am not the best cook (and the older/busier I get the more I forget and burn food.) As a matter of fact, my kids have a saying that dad brings home the bacon and mom burns it.
I was toasting something in the toaster and I purposely set it on the highest setting so that my thing could get good and toasty while I went to the bathroom. You know how things are great as a mom until you decide to go to the bathroom. My kids started yelling at me that my food was burning (not unusual). "Don't worry about it," I holler back. "It's fine. I'll be there in a sec and I can take care of it." They continued to holler.
I holler back, they holler back (you moms know the drill). Finally, I hurriedly came in the kitchen a little exasperated at them for interrupting my bathroom business to see my youngest three staring at the toaster with flames pouring out of it hitting the top of my wooden cabinet and trying to burn the plastic bags, kitchen towels, and other appliances. I promptly unplugged the toaster and took it to the back deck while the kids opened the back door and held the curtains for me while commenting on the over 1-foot tall flames.
After we talked about fire safety and how to put out appliance fires and I had complimented Justus on his great thinking to not dump water on the toaster that was still plugged in, I asked my kids why they did not alert me to the fact that there was a FIRE. They responded that they were just obeying me and my request to not worry about it and that I'd take care of it in a sec. (Insert eye roll as well as suppressing laughter at the fact that THIS was when they decided to obey.)
What are your go-to things to do with the kids in NWA?
One of my favorite things (especially when my kids were little) that was indoor and free were the Shiloh Museum and Rogers Historical Museum. They have lots of hands-on spots that are GREAT for littles to play and explore. The public libraries and Barnes and Noble are great, too. (Sorry, with four kiddos and only one income I always looked for free.)
What about time for yourself?
With four kids–what's that? If I had time, I'd love to write kids' history books and scrapbook.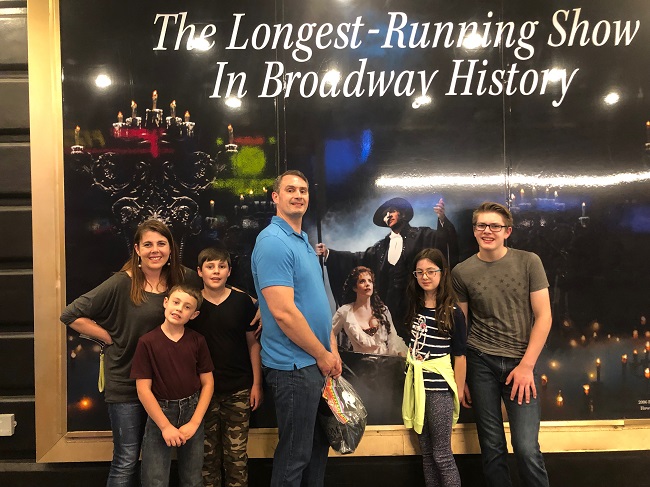 How did you and your husband meet?
We met at church in our college group.
Was it love at first sight?
No, but as I got to know him better through church activities I liked him enough to finagle a way to put myself in his group on our spring break mission trip. About 9 months later, he proposed to me at center-court of the Fayetteville Christian School gym during homecoming (cool b/c I was the girls' basketball coach at the time. We had our wedding reception in the same gym.) We've been married for 16 years now.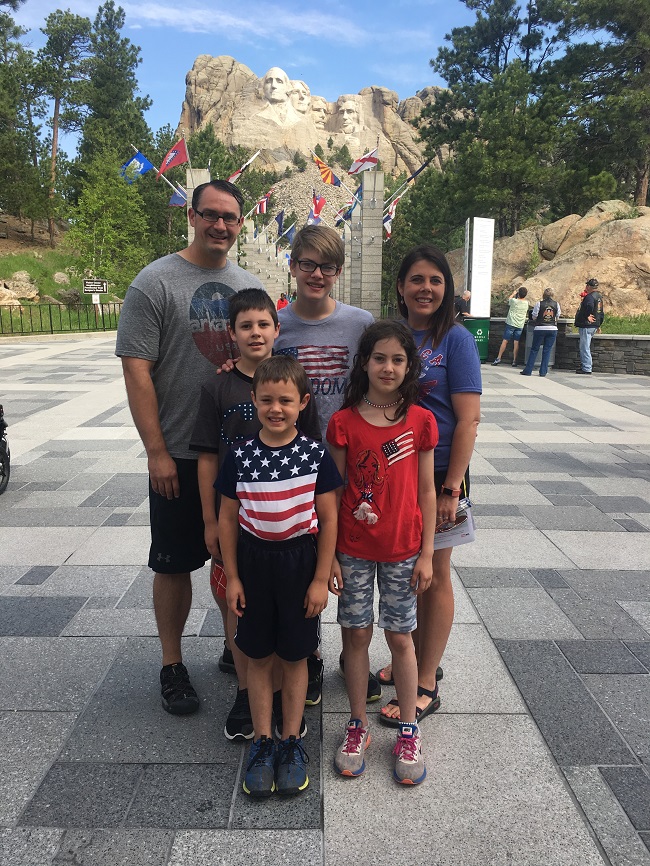 What's a meal you make (or should we say burn) over and over for your family?
Taco Soup
If you could magically have a new skill, what would it be?
Totally Bewitched cooking skills. It takes forever to plan and then cook healthy meals that will keep me healthy and fitting in my jeans.
What's something your friends might not know about you?
As crazy and confident as I am in seemingly everything, I have recently discovered (with my husband needing some shots) that I am no good at sticking people with needles. Cleaning up blood and grossness, no big deal, but pushing a needle in someone? It gave me a new appreciation for medical personnel.
If you got an unexpected gift of (a lot of) cash, what would you do with it?
Take my whole family to visit my brother while he is deployed in Europe.
What's your favorite way to unwind at the end of the day?
A good book.
What do you most want people to remember about you?
That I loved Jesus and served others with everything I had.
One word to sum me up: exuberant