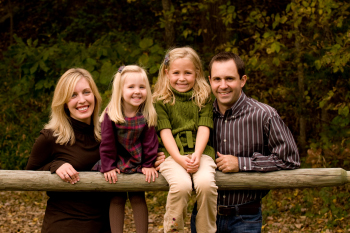 UPDATE: Portrait giveaway winner Kimberly Williamson gave us a call this morning and was very happy to accept her prize! Kimberly has two children, 5-year-old Clayton, and 2-year-old Sydney. She and her family, which includes husband Zach, live in Springdale. Kimberly offered thanks to her friend Jamie Stein for telling her about nwaMotherlode (and offered condolences that Jamie didn't win the giveaway!).
Kimberly said she's never had a professional portrait taken of her family and has a large bare wall above her couch that's just begging for one.
Congratulations again, Kimberly, and we'd love to display the finished product on the website. So go set up that appointment with Melanie Merkling so we can all see it!
Mamas, you certainly love the idea of capturing those sweet family memories! Our portrait giveaway was the busiest contest we've had so far — we could barely keep up with the e-mails. But, alas, we could only choose one name. The lucky winner is … Kimberly Williamson!
We sent Kimberly an e-mail Thursday night, but didn't have her phone number to tell her the good news. So Kimberly, if you're just seeing this, congratulations! And give us a call!
In case you're just now checking in with nwaMotherlode this week, Kimberly has won a session

with local photographer Melanie Merkling and a 20 x 24 print of the photo of her choice, printed on canvas and stretched across a wood frame by professional framer Scott McGowen of Scott Frame & Art (located in Rogers).
We hate that we couldn't offer a photo shoot to everyone, but it was so important to you that we're definitely doing a portrait giveaway again. We promise! In the meantime, there's another giveaway coming up next week that you won't want to miss. Hint: It's something lovely to adorn your neck.