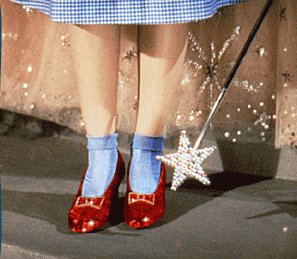 Jamie Stein is going "over the rainbow" next month when she picks up FREE tickets to see Wizard of Oz at the Walton Arts Center. Jamie entered our online drawing last week for the pair of tickets that also come with a complimentary gift certificate to Jose's Mexican Restaurant.
Jamie is a stay-at-home mom of two very cute little girls, Laney, who is 3, and Sadie, who is 1. (You can see them in photos posted in her blog by clicking HERE.) She's married to Brandon who is a salesperson for a construction company.
"This was my mom's favorite movie while I was growing up. I loved it, too, because we always watched it together every year," she said. "This is a really great Christmas gift!" Jamie's mom lives in Fayetteville, so it sounds like a pretty safe bet that this mother-daugther duo will be going to the show together.
Jamie found out about nwaMotherlode.com from her sister Holly, who works at Signature Bank. (Thanks, Holly!) She had entered several previous giveaways on the site, but this time it was her name we drew out of our online hat. (That just goes to show that persistence pays off – literally.)
We hope you have a great time at the show, Jamie! Congrats on the big win!
If you didn't win this pair of tickets but still want to see Wizard of Oz on stage, here's the info you need to know: Performance times are Tuesday, Jan. 6 at 7pm., Wednesday, Jan. 7 at 7pm, Thursday, Jan. 8 at 7pm, Friday, Jan. 9 at 8pm, Saturday, Jan. 10 at 2pm & 8pm, and Sunday, Jan. 11 at 2pm and 7pm. Tickets range from $20-$58 and can be purchased by calling Walton Arts Center Box Office at 479-443-5600 or by visiting waltonartscenter.org.