Last week we told you about all the amazing food we ate on vacation at one of our new favorite places, El Dorado Maroma, located in the Riviera Maya region of Mexico. This week, we're going to tell you what we did between all those fabulous meals.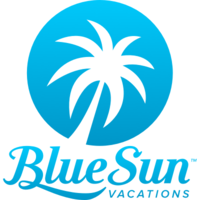 (Full disclosure: One of our clients, BlueSun Vacations, set us up with a complimentary stay at El Dorado Maroma, but we paid for our airline travel expenses. All the opinions you see here are completely our own.)
Step 1: Give your "mom brain" a vacation
El Dorado Maroma is an adults-only resort, and it's the first time I'd ever been to a hotel with no kids in sight. Shannon and I are both worry-warts by nature, and we weren't sure how we'd feel about being away from the kids for several days. But we're here to tell you, mamas, IT.IS.AMAZING. Allow us to explain…
One of the first things we did on this beach vacation was to shift out of "Mom mode" — that frame of mind we spend most of our lives in where we're constantly on call to answer questions, find missing shoes, fetch a juice box, settle a sibling fight, etc. Making this shift it important, especially when you're on a trip with your husband and want to use the time to recharge and reconnect with the person who helped you make those babies.
Shifting out of Mom-mode is harder to do when there are kids around — even if they 're not your kids. As most of us know, when little kids are running around a hotel pool, your mom instincts kick in even though the kid belongs to someone else. We can't help it. We end up watching him to make sure he doesn't fall in the deep end when his parents are distracted. And it's tough to relax when you can hear a crying toddler having a meltdown 20 feet away from you.
Having a completely kid-free space has its advantages when one of the goals of your vacation is to truly relax and take care of yourself and your spouse instead of looking out for kids.
Here's a short video Shannon's husband shot of us acting like kids again while we played on the swingset that's knee-deep in the ocean at El Dorado Maroma.
Step 2: Do… nothing!
We know some people like to go-go-go while on vacation and pack in as many adventures as possible. And then there are some of us who just want to chill — watch the waves roll in on the beach, read a book, take a nap and order drinks. Shannon and I and our husbands fall into that second group. That's why we spent a LOT of time in the gorgeous cabanas that line the shore of the beach at El Dorado Maroma, considered to be one of the top beaches in the entire world. The sand is powdery soft, nearly snow white and is so easy to walk on (or run, if that's your thing).
The beach cabanas are HUGE, like a king-size bed with pillows and white linen curtains on each side as well as a beautiful thatched roof overhead. It's perfect for pale people like me who gave up on tanning a decade ago. If you do want some sun, there are plenty of lounge chairs in front of each cabana where you can get full sun exposure.
Waiters come by the beach cabanas often to see if you're ready for a drink. (We were.) Since it's an all-inclusive resort, we had our share of refreshments while lounging, chatting and reading in the cabanas. (The cabanas themselves are also free to use.) The shot below is the view we had from the cabana we used for two days during our trip. Doesn't it look like a postcard? Just looking out at this view while feeling the breeze was soooooo relaxing for me.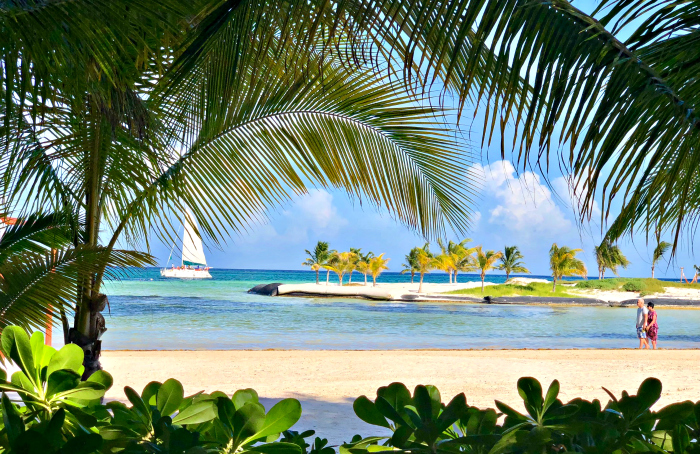 Step 3: Go have some fun!
If an adventurous vacation is more your speed, this resort can definitely deliver that experience, too.
Even though we lounged around most of the time, we saw plenty of people on paddle boards, para-sailing, or snorkeling. Maroma Adventures by Lomas Travel offers a ton of excursion and activity options, including these:
One afternoon, while Shannon and I read a hilarious novel on the beach, our husbands took off to go deep sea fishing for a few hours.
They had a blast and both caught fish! One of them caught a barracuda (which isn't so edible) and the other one caught a Mahi Mahi. The boat driver delivered the fish back to our hotel, where one of the chefs prepared it for our dinner that night. So cool! Here's a picture of the proud men with the catch of the day.
There are other excursions offered through Lomas Travel (which is the travel agency affiliated with El Dorado Maroma), and here are a few of the activities:
There's also an incredible spa at El Dorado Maroma with a long list of spa services (including a massage you can have on a table right by the ocean)! And for those who don't want to miss a work-out during vacation, there's a nice gym at the hotel as well.
If you're like us and you count "Eat incredible food" as an item on your vacation to-do list, be sure to click here to read our post about the gourmet food at El Dorado Maroma. And stay tuned because we'll have a few more posts about the overall atmosphere of the resort, the service and other nearby resorts where you could also visit (with or without kids).
Our thanks to BlueSun Vacations for making the trip planning process completely stress-free, and thanks also to El Dorado Maroma for giving us a gorgeous spot to celebrate our 10th year of blogging here on nwaMotherlode.com. (If you're planning a vacation, we can wholeheartedly recommend BlueSun, founded in Fayetteville, if you'd like expert recommendations and kind people who know how to take the hassle and stress out of planning a trip. Click here and here to read more about our vacation planning experience with BlueSun.)