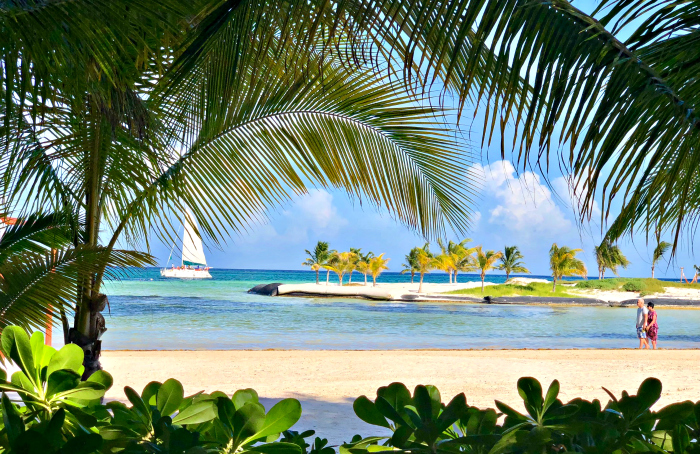 Now that the weather has turned colder, we're scrolling through photos on our phones and remembering our time on the warm, sunny beaches of Mexico a few months ago. In August, we told you about our trip to El Dorado Maroma — the food we ate, the things we did on vacation, as well as the overall atmosphere and service. It was incredible.
Full disclosure: Our client BlueSun Vacations told us about the El Dorado resorts and arranged for us to stay there so we could write about the experience. We covered all our own flight expenses. (Click here to see what other local women think about BlueSun and how they help busy mamas with travel plans.)
While in Mexico, we toured the other resorts in the El Dorado line-up. There were a total of five resorts located near each other in the Riveria Maya region of Mexico — El Dorado Maroma (where we stayed), Palifitos at El Dorado Maroma, El Dorado Royale, El Dorado Casitas Royale, and Generations. What all of them have in common is that each resort is a 5-star "gourmet inclusive" property, which means all the gourmet food and premium drinks come with the room. No need to bring your purse or credit card with you everywhere you go. Each resort has several different restaurants on site so you can have a different type of cuisine every single day, if you like. Another common element? They're all GORGEOUS. We were able to see each one up close and they really are remarkable. It feels a lot like stepping into a real-life postcard.
If you're looking for a once-in-a-lifetime kind of experience, you may want to check out the Palafitos at El Dorado Maroma, which are individual, overwater bungalows situated on a beach that has been named one of the Top 10 Beaches in the World. We were able to visit one of the bungalows to see it up close, and they are spectacular. Celebrities like them, too. We heard that actress Sarah Hyland from the show Modern Family stayed in one of the bungalows just a few weeks before our visit.
Each bungalow comes with its own private butler, private pool, private sun-deck over the water, and a view of the ocean that people only dream about. Not only can you see the water through the glass floors of the bungalow, you also have a wide open view of it from the private balcony, too. Guests in the bungalows also have their own high-end restaurant or they can visit any of the restaurants on site at El Dorado Maroma.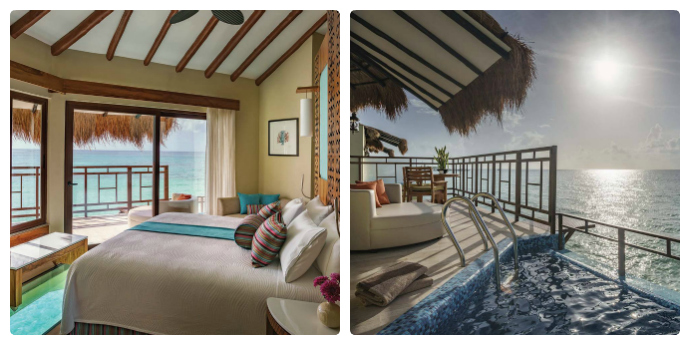 We were blown away by all the little extra touches inside the bungalows. There is a "pillow buffet" so you can test out different types of bed pillows and choose your favorite. You can also choose what type of aromatherapy the room will have, and the shower water itself is scented! Can you imagine? Staying at the Palafitos at El Dorado Maroma would be an experience of a lifetime.
El Dorado Royale is the largest adults-only resort we saw. The lobby is enormous with a huge sprawling balcony right outside that overlooks the grounds. Soooooo beautiful.
The Royale would be a great choice if you want a resort with amazing food and a lot of activity, people-watching, mingling, events, etc.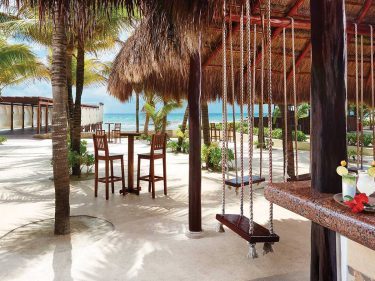 We loved the swings that are incorporated into the beachside bar! U.S. News & World Report named El Dorado Royale as one of the 2017 Best Hotels in Mexico. 
If you stay at El Dorado Royale, make a dinner reservation at Fuentes, which is a "culinary theatre" restaurant. It is SO cool, especially if you're a foodie or love to watch cooking shows. It's a little bit like being on the set of Iron Chef and watching as a chef makes each course on a kitchen stage right in front of you. Then waiters bring each dish out to the tables. We learned so much about the ingredients that went into each dish — all of which were incredible. Here's a photo of Fuentes Culinary Theatre.
Located right next door, the El Dorado Casitas Royale is just as posh as its neighbor but also features a more exclusive vibe with more opportunities for private, high-end suites with more space and amenities. This resort is also an adults-only space, and the honeymoon suite would blow your mind.
The great thing about these properties is that you can walk or take a short golf cart ride from one resort to the other, so if your favorite restaurant is at a nearby resort, you can eat there or at any restaurant located at El Dorado Royale, El Dorado Casitas Royale or Generations.
While we loved the adults-only resort options we saw at the properties mentioned above, we know it's not always easy to leave those babies and kids with grandparents for a getaway. And kids need some vacation time, too! That's where Generations comes in. This family-friendly resort is SO big and has so much to offer families with kids of all ages. The resort staff is constantly changing up the mix of activities, based on the ages and interests of the kids staying at the resort.
The resort itself sits right on the beach and has swim-up suites connecting to a main pool. There are also balcony pools running the length of the building. We'd never seen anything like it before!
What we loved about this particular property is that families are assigned a 24-hour concierge who helps take care of the needs of the whole family. For example, if you have a kid who's a picky eater, the concierge will make sure the restaurant where you're headed makes something special just for him or her. Typically, it's the mom who ends up spending the majority of the vacation making sure that the rest of the family has what it needs and is having fun. With a all-day concierge service like this, even the moms get more time to relax and have fun.
Also, there are babysitting services available at the hotel for evenings when mom and dad want to eat out alone. Here's a shot we took overlooking the main pool and some of the balcony pools at Generations. See how you can swim right up to your own hotel room? We love that.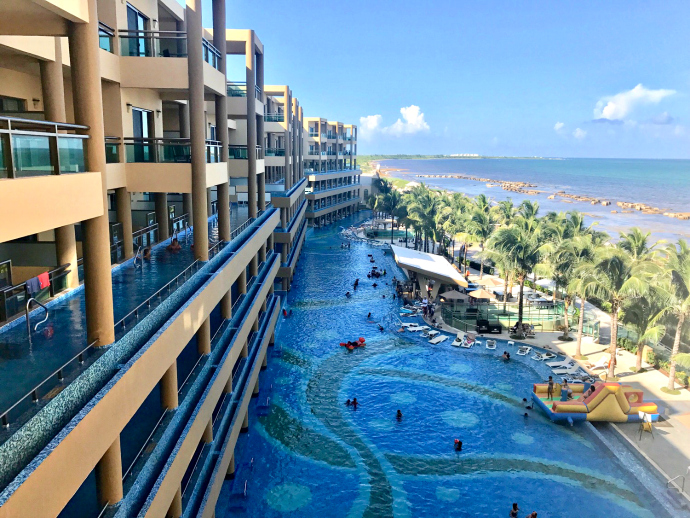 We loved our trip to Mexico so much that we're planning to go back for either a repeat visit at El Dorado Maroma or maybe we'll bring the kids to Generations. And we'd love another couples-only trip to any of the other resorts in the El Dorado family. The great thing about visiting another El Dorado resort will be the assurance that we already know how high the quality of the facilities are and how incredible the personal service is that guests get from the staff. And the food! Oh, the food was incredible at every resort we toured.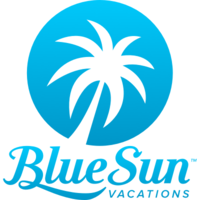 For more info about any of the properties we mentioned, talk to one of the BeachMasters at BlueSun Vacations in Fayetteville. (Here's the number: 479-957-9647. If you book a trip before the end of 2018, use this discount code BLUESUNMAMAS18 and you'll get $100 off the cost of the trip.) Our BeachMaster, Matt Brelsford, set up all our travel plans and made everything so easy and stress-free for us. All we had to do was throw some swimsuits in the suitcase, grab our passports and off we went.
Our thanks to BlueSun Vacations and to our gracious hosts at El Dorado Maroma for a trip we'll never forget! We love Mexico!