BlueSun Vacations travel agency
I'll be honest. As much as I love the idea of a luxurious vacation, I actually feel a twinge of dread at the beginning of the planning process.
Why?
Because every vacation needs a "director" — someone who does the research on where to go, figures out how much it will cost, looks at options for travel dates, decides what activities to do while we're there, finds cool places to eat, and the list goes on and on. I'm sure there are some men who love this process and happily take it on, but it's usually the mama who handles all this "invisible work" for vacations.
The time and hassle required to make sure all the details get handled can be stressful, to say the least. Vacations are pricey and no one wants all that money to be invested in a trip that's not great.
But this year, we have blissfully handed off all those vacation planning duties to Matt Brelsford, who is a "BeachMaster" for
BlueSun Vacations. (BlueSun is a company that was founded in Northwest Arkansas five years ago.)
Shannon and I are taking our husbands on a trip to a beach in Mexico, (partly because we're celebrating our 10th anniversary of running this website)! Full disclosure: The all-inclusive resort where we're staying, El Dorado Maroma, is providing our rooms at no charge because we'll be writing about our experience while we're there. But we are paying our own travel costs to get there.
Do you pay more when you use a travel agency?
The answer to this question surprised us. You actually pay the SAME PRICE for a vacation if a travel agency books it for you that you would pay if you booked it entirely on your own. Honestly, we couldn't understand how it worked at first. Matt was spending lots of time on the phone with us, answering our questions and looking into travel options. So we point-blank asked him (because we're nosy that way): "Matt, how do you guys make money?"
The answer is that travel agencies make commissions on each vacation booked, and so do travel-planning websites like Expedia or Travelocity or even a 1-800 telephone number. There is a "base level market rate" for every vacation, and commissions are built into that rate. Booking the trip on your own doesn't mean you won't have to pay that commission. It just means that the website or the telephone service that you used to make the booking will get the commission.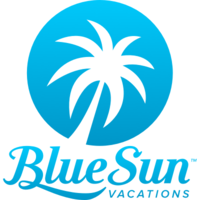 So if travelers pay a commission anyway, why not pay it to travel agents who are incentivized to make the whole process easy and fun? It seems like a no-brainer, right? (Plus, BlueSun Vacations is so confident that they can get the best rates, they offer a price match.)
Travel agency perks
If you've ever used a travel website chat window or a toll-free phone number to ask vacation planning questions, you know you're likely to get a different customer service representative every time you call or chat. That means you have to fill that person in on the details of your trip before they can begin answering your questions. You're also likely to spend a whole lot of time on hold. (In our experience, busy mamas do NOT have time to waste on hold.)
Every time we have called BlueSun, however, someone answers the phone on the first one or two rings. (Matt told us that their average phone answering time is 5 seconds!)
Matt even sent this awesome handwritten thank you note after he booked our trip for us. (Extra points for a classy touch, Matt.)
Not only can we call Matt at his office or on his cell phone, we can also email him OR even text him questions any time they pop into our head. Here's a sampling of the questions we've texted him in the past few weeks:
"Matt, where should we eat while we're there?"
"Yikes! My passport has expired. How long does it take to get an expedited passport?"
"Do we need to worry about any hurricanes during these travel dates?"
"What are the charges for checked bags?"
"Matt, what's the vibe like at this resort?"
Matt has quickly called or texted us answers to all these questions and more. And the best part is that he has been to the exact resort where we're going, so he really knows what he's talking about. In fact, BlueSun thinks that talking to a travel agent who has been to many different vacation destinations is so important, they actually send their agents to visit the resorts where they book trips. The agents see resorts in person, eat the food, and experience the level of customer service for themselves so they can share those details with guests.
Matt says that Shannon and I and our husbands are going to LOVE the resort he suggested for us — El Dorado Maroma which is in the Riveria Maya area of Mexico. Below are a few swoon-worthy pictures of the resort, which is located on one of the best beaches in the world, as ranked by the Travel Channel. (Don't hate us, mamas. We've been working hard for 10 years for this trip!)
And below is a shot looking out from one of the rooms at the resort:
Next week, as part of our vacation countdown, we'll tell you more about what we've learned during the planning process, including answers to these questions:
Should you get the travel insurance offered for trips? What does it cover?
What happens if my kid gets sick and I have to cancel or postpone the trip?
How many of the details can a travel agent plan for you?
What types of trips does this agency specialize in?
Our thanks to Matt at BlueSun Vacations in Fayetteville for making this the most stress-free vacation planning experience we've ever had. It makes the anticipation of the trip so much more fun, knowing we're in good hands and the details are all being covered by a true pro.
For more info about BlueSun or to talk to one of their famous "BeachMasters," call them at 1-800-909-9648 or click HERE to visit the BlueSun Vacations website. BlueSun is also the local sponsor of our Northwest Arkansas Calendar of Events, which gives local parents info on family-friendly events each month. Click here to see this month's calendar!