17 Better is a dinner of herbs where love is,
     Than a fatted calf with hatred. ~ Proverbs 15:17 (NKJV)
By Bro. John L. Cash, "Country Preacher Dad"
Dearest moms, we're rounding the last corner as we come into the final stretch of the 2012 Christmas preparation season. Are things just a little hectic at your house? Are the babies whining because they're hungry for supper and you don't know what to cook? Well, cheer up, because Bro. John is here with information that will make your life just a little bit easier. Today I'll be sharing a delicious recipe that I've invented that is quick to fix and that requires only normal ingredients that you'll probably have on hand. (And clean-up will be easy because you'll only be cooking in one pot!)
"Good Dr. Cash's One-Pot Noodle Hot-Dish"
Ingredients:
One (1) 12-ounce-package of Ronco "Fine Egg Noodles"
Mrs. Dash seasoning
Two quarts (64 ounces) of chicken broth
One (1) Family-Size Can (26 ounce) of Campbell's Cream of Chicken Soup
One (1) can of Le Sueur Green Peas (drained)
Three (3) 5-ounce cans of  chunk chicken meat. (These are little cans, like the ones that tuna comes in.)
Directions:
Pour the chicken broth (you can get it either in cartons or cans) into a pretty-good-sized soup pot. Shake some of the Mrs. Dash into the broth, until it looks like the amount that your family likes. (Mrs. Dash doesn't have salt in it. The broth doesn't need added salt.) Bring the broth to a roaring boil. Add the package of  Ronco "Fine Egg Noodles." (These are tiny little noodles, each about the size of a toothpick. The package says that they cook in 3 to 4 minutes.)
Reduce the heat a little, and simmer the noodles for about 5 minutes, stirring constantly (so they don't boil over onto the stove.) Remove the pot containing the broth and noodle mixture from the heat, and stir in the soup, peas, and chicken meat. Return the pot to the burner, and simmer for a few minutes, and then serve.
I cooked this again last night, and it was a big hit with everybody. Even Seth ate two bowls of it, and he is very picky about what he eats. Susan came in from jogging and ate a big bowl of it, and Spencer said to be sure to put the leftovers in the fridge so he could eat some more today. (Oh, if all of life were this easy….)
Have you noticed how the food critics make fun of any recipe that has cream-of-anything-soup in it? I don't think food-snobbery of that kind is fair, and I don't think it's what the Bible teaches. In today's Scripture lesson (at the top), King Solomon points out that it isn't the cost or the fanciness of the food that makes a meal good, but the love that is present at the table. So, as you're celebrating this holy Season, pray that each thing you prepare will blessed with the presence of the love of God, and served up in the kindness that comes from knowing the Christ Child.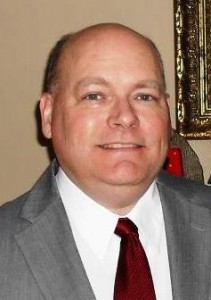 Dr. John L. Cash is the "Country Preacher Dad." He was raised in Stuttgart, Arkansas, and has spent the last 27 years being a country preacher in the piney woods five miles south of the little town of Hickory, Mississippi. (On week days has a desk-job at a public school and teaches Latin on closed-circuit-television.) He and his lovely wife, Susan, live in the parsonage next door to the Antioch Christian Church (where people still show up for the potluck dinners, even though we never have "arugula" or "quiche.") The Cashes have two sons, Spencer (age 21), and Seth (age 18), who live in the parsonage, too, except when they are away at college. He would love to hear from you in an email sent to countrypreacherdad@gaggle.net.