By Shannon Magsam, nwaMotherlode co-founder
Have you ever been part of a cookie swap? Well, I hadn't until last weekend.
The Cookie Queen (a.k.a. my blogger friend Christy Walker) hosted at her house in Fayetteville and we multi-tasked: a cookie swap AND a book club meet-up (if you're more of a reader than a baker, the book was Stephen King's 11/22/63).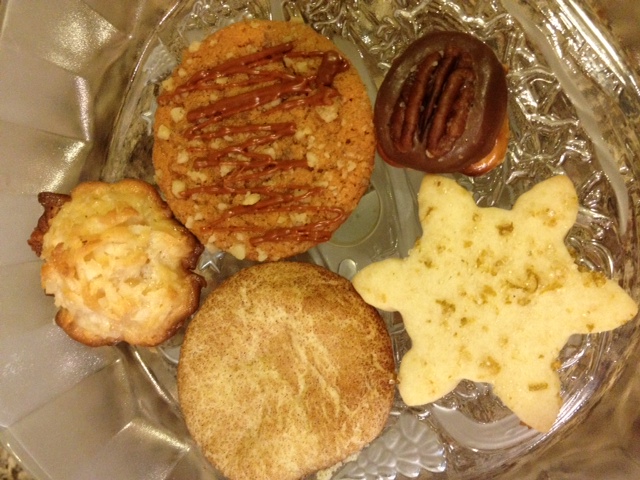 Each friend brought three dozen cookies and we loaded down our Christmas plates with a few of each before heading to the living room for our book chat. At the end of the night we were all able to pack up a variety of delicious homemade cookies to give as gifts — or to eat at home.
Christy even conducted a little cookie contest. The cookies that won the top three spots were the Key Lime Shortbread Cookies from the December issue of Southern Living magazine, Rollo Pretzel Turtles from AllRecipes.com and Coconut Macaroons from the cookbook Barefoot Contessa Family Style. All so yummy.
Alas, my cookies won no awards. Not based on taste, but shape, apparently. They were supposed to be rolled out to resemble "fat pinky fingers", but I gave them a little curve. Oh well, we got a good laugh out of my "Snowman Poo" cookies. See?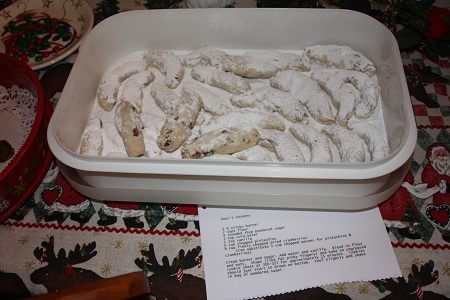 The cookies are actually called Dear's Cocoons and the recipe came from my friend Ashley Borgsmiller. Dear was Ashley's grandmother. I promise they really taste good! Ha!
Dear's Cocoons
1 ½ sticks butter
2 cups flour
4 rounded tbsp powdered sugar
3 tsp cold water
1 tsp vanilla
*½ cup chopped pistachios
½ cup finely chopped dried cranberries
(*Can substitute 1 cup chopped pecans for pistachios & cranberries)
Directions: Cream butter and sugar. Add water and vanilla.  Blend in flour and nuts.  Shape (like fat pinky fingers, with NO curve!) and bake on ungreased cookie sheet at 300-325 for approximately 15 minutes.  Cookies should just start to brown on bottom.  Cool slightly and shake in bag of powdered sugar.
My partners in cookie making: