You may remember several weeks ago we told you about a recipe contest sponsored by CCF Brands, a local company that makes RingO's chicken rings, Great Day Foods, Great Day All Natural Eggs, Old Hearth Bagels and much more. The only requirement for the recipe contest was that it include eggs and taste delicious.
After lots of taste-testing, a winner was chosen. Robin McElroy, who lives in Southern Arkansas, took home the grand prize for her French Toast and Strawberry Cream Cheese. (Yum!) Robin won a $250 Wal-Mart Gift card, just for sending in her egg recipe! We bet she was one happy mama.
If you'd like to try out the winning recipe, here it is!

Ingredients:
• 6 thick slices bread
• 2 large Great Day All Natural eggs
• 2 tbsp. fat free half & half
• 1/4 tsp. vanilla extract
• 1/16 tsp. salt
• 4 oz. fat free strawberry cream cheese spread
• 1 tbsp. powdered sugar (optional)
• 4 large fresh strawberries – sliced (optional)
• 1/2 cup dairy whipped topping spray (optional)
Directions: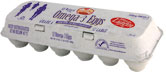 Mix Great Day All Natural eggs with half & half, vanilla, and salt in a shallow bowl. Dip bread pieces into mixture, coating each side. Heat a large non-stick skillet over medium heat. Spray skillet with oil and add bread pieces. Cook until golden brown on both sides. Place the toast on a plate and top with a dollop of the strawberry cream cheese mixture. Garnish with dairy whipped topping spray and sliced strawberries. Serve immediately. Serves three.
Mealtime Mama is sponsored by Chick-fil-A on Razorback Road, owned by Paige Frost.  As fellow moms, we know you can appreciate that Chick-fil-A earned the award for America's Healthiest Chain Restaurant for Kids by Eat this Not That for Kids.